Kanchenjunga North Base Camp Trek is the best trekking route to visit Kanchenjunga region as it offers the beautiful view of the third highest peak in the world, Mt. Kanchenjunga, with a height of 8,550m.
Being said best, it is also an equally demanding route because of its isolated and unpaved trail, challenging passes, rocky paths, frequent ascends and descends etc. However, it doesn't mean that trekking this region through the north base camp route is impossible to accomplish. With the proper acclimatization, physical fitness, and guided tour, you can successfully get over the Kanchenjunga North Base Camp difficulty.
It is one of the restricted regions in Nepal because of which permit for Kanchenjunga Base Camp can be obtained only through the local trekking agency in Nepal. So, it is impossible for you to go for a solo trek to Kanchenjunga Base Camp.
Kanchenjunga North Base Camp Trek Distance
You need to cover the 200km (round-trip) distance to complete Kanchenjunga North Base Camp trek because of which it is regarded as one of the lengthy treks in Nepal. The highest altitude of the north base camp route is 5,200m which lies at Pang Pema. Despite its challenging trail, many people complete 200km trial as this route provides the best view of Mt. Kanchenjunga and stunning glaciers.
You will walk for around 6-7 hours daily by covering 10-11km. While walking, you will also gain the altitude which increases the Kanchenjunga Base Camp difficulty. So, it can be said that this trek is physically challenging and you must be cautious while making a selection of a trekking agency. We, Adventure Himalayan Travels and Treks, will provide you the experienced guide for Kanchenjunga Base Camp trek so that you can cover the overall trekking distance at constant and slow pace as per the guidelines of our guide.
Kanchenjunga Base Camp Elevation and Acclimatization
Kanchenjunga North Base Camp reaches up to the elevation of 5,200m which means that you will be gaining 400m to 800m each day. Besides this, you will also be walking 6-7 hours each day for around 14-16 days. So, it is mandatory for you to acclimatize in order to increase the success rate and to adjust with the increasing height and new environment.
Altitude sickness is one of the major difficulties that you need to overcome in order to complete this trek. Basically, travellers face this problem while trekking above 2,500m. The higher the height you gain, the lower the level of oxygen. As a result, symptoms like vomiting, headache, dizziness, breathing problems etc. start to appear.
Remember the only way to deal with altitude sickness and higher elevation is by acclimatizing as much as you can.
In the rush of completing the trek, you might get into lifetime trouble if you try to avoid the required days of acclimatization. It is also crucial for you to maintain a slow pace and take rest very often. Also, proper acclimatization helps the new trekkers to comfortably complete their trek. Our, Adventure Himalayan Travels and Treks's, organized itinerary will provide you hassle-free trekking with sufficient acclimatization days.
Kanchenjunga Base Camp Weather and Temperature
To win over the difficulty of Kanchenjunga North Base Camp trek, you need to have deep insight about the weather pattern of this region. The frequent changes in the climatic condition make this trek hard to complete. Among the four seasons, winter and spring are considered the best times to trek to Kanchenjunga Base Camp. During this time, the temperature remains pleasant and warm.
Winter is regarded as the off season and the smaller number of travellers are observed during this time. The temperature falls to -12°C with the 8mph wind speed at the top of north base camp during winter. It is the minimum temperature of Kanchenjunga Base Camp throughout the year. Because of extreme coldness, this season puts extra difficulty on trekking. Also, the entire trekking trail is covered with snow during this time. In the low altitude, the temperature fluctuates between 5°C to 8°C.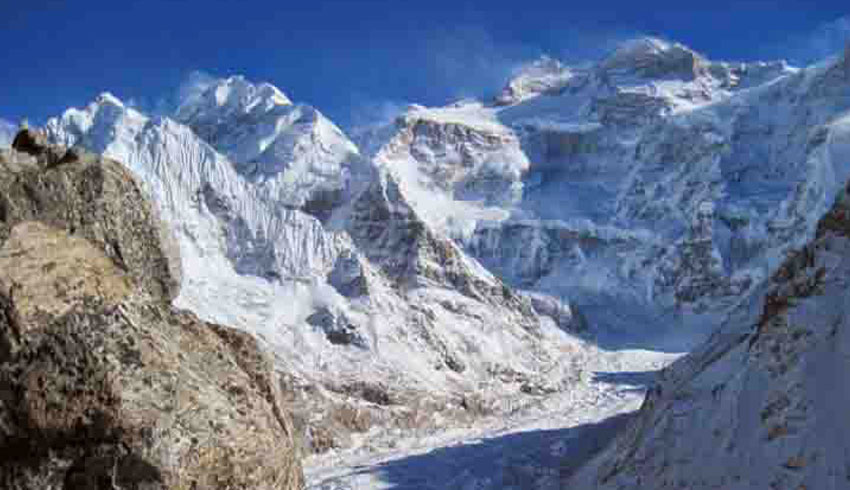 Autumn season receives high rainfall because of which chances of landslide and flood increases. Also, the trail becomes slippery and muddy which adds more difficulty to Kanchenjunga Base Camp trek. However, the temperature of base camp during this time is warm.
It is crucial for you to decide when to trek this region as the bad weather makes your trip twice as hard as before. Beside this, you will also need to cross the high passes via ice and glaciers for which climatic factors play a great role. So, we would assure to serve our clients with the best Kanchenjunga Base Camp Trek package in the best weather to make your trip beautiful.
How to get over Kanchenjunga Base Camp Trek Difficulties?
You can deal with the Kanchenjunga Base Camp Trek difficulty easily if you have access to proper itinerary having sufficient acclimatization days, local trekking agency having experienced guide and porter, and the right gears and equipment for Kanchenjunga Base Camp Trek. Likewise, proper hydration and slow pace will also help you enough to fight against the problems that may arise in the trail.
Here are some of the ways that you can follow to minimize the difficulty during the trek to enjoy the hassle-free travelling.
1. Hire Guide and Porter
Trek to the Kanchenjunga Base Camp seems a bit bearable if you are with the guide and porter. The continuous support and guidelines from the guide will make your trip comfortable. Some of the problems like language barriers, misleading the trail etc. can be solved with the help of a guide. Also, a guide for Kanchenjunga Base Camp will help you in finding the right place for a warm stay.
Similarly, hiring a porter will reduce the load as they will carry your backpack. It will help you to freely explore the surrounding area. If you want to get the best guidelines during this trek, get in touch with us as our guide is highly experienced and client driven.

2. Get Proper Training and Maintain Physical Fitness
The key to succeed in Kanchenjunga North Base Camp trek is by taking the right kind of training beforehand the journey. Physical exercises will help you to increase stamina and strength by boosting your confidence. You can start practicing hiking at least 6 months before the actual trekking. Also, taking cardio and strength training such as swimming, cycling, running etc. will surely increase your success rate.
3. Right Itinerary along with Proper Acclimatization
If you want to avoid the possible danger of this trek, then preparing the right itinerary with the sufficient acclimatization days for Kanchenjunga Base Camp trek is mandatory. Remember to choose the itinerary which has enough acclimatization days so that you can get needed time to adjust your body in the new region. Also, walking slowly by adding more days will provide you with the best views by reducing the Kanchenjunga Base Camp difficulty.
The problem of Acute Mountain Sickness (ACM) can be cured if you take rest and acclimatize often. There is a chance of a high Kanchenjunga trek success rate if you acclimate your body properly. We, Adventure Himalayan Travels and Treks, assure you to provide the best Kanchenjunga Trek itinerary with enough acclimatization. You can also customize the itinerary as per your preferences with the help of our expert team.
4. Required Gears and Equipment
Packing list for Kanchenjunga Base Camp trek helps a lot in reducing the difficulties that it may possess. With the help of the right gears, the trek seems comfortable. Also, avoid excess packing as it will only increase the load and will put extra stress on the trip.
Some of the most carried things for Kanchenjunga Base Camp trek are;
Clothing (Innerwear, Inner Layer, Down Jacket, Fleece Jacket, Wind/waterproof jacket, fleece trousers, shorts, collared shirts etc.)
Headwear (Cap, hat, beanie, sunglasses, buff etc.)
Hand wear (Thick and thin gloves)
Footwear (Hiking boots, sandals, trekking socks, gaiters etc.)
Sleeping gear (Sleeping bag, ear plugs etc.)
Toiletries (Sunscreen, Face and Body Moisturizer, Lip balm, toilet paper, hand sanitizer, toothbrush and toothpaste, towel, shampoo, shower gel etc.)
First-aid kit (Diamox, painkiller, Band-Aids etc.)
Documents (Passport, visa, travel insurance, money, credit card, tickets etc.)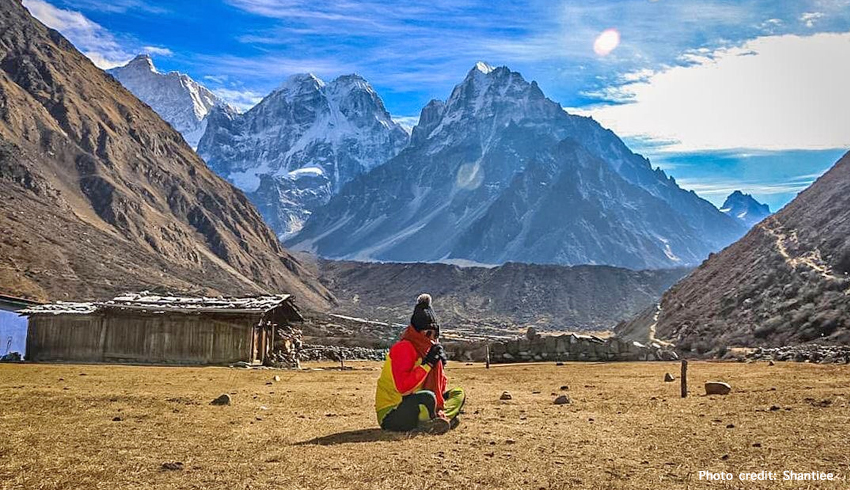 How to Deal with Altitude Sickness?
Some of the ways to deal with the altitude sickness are;
Drink plenty of water
Acclimatize often
Carry energy giving snacks
Avoid the alcohol
Pack the right gears etc.
Tips for Kanchenjunga North Base Camp Trek
Here we have listed 5 major tips to carry out the Kanchenjunga North Base Camp trek without any much hurdles.
Kanchenjunga North Base Camp trek is one of the challenging routes because of which we suggest you hire a local experienced guide and porter.
Kanchenjunga region is one of the restricted regions in Nepal so remember to book your trek with local trekking agency to obtain Kanchenjunga Base Camp permits.
Kanchenjunga North Base Camp takes you above 5,000m so try to drink plenty of water and keep on hydrating your body.
Being an isolated region, it is very hard for you to buy the trekking gears in the trail. So, don't forget to carry the essential gears and equipment to enjoy the trip comfortably.
Kanchenjunga North Base Camp trek difficulties are not as simple as other treks. So, join the gym, hiking groups, aerobic, yoga etc. at least 6 months before the actual trek.
Even though Kanchenjunga North Base Camp is regarded as the toughest route, you can easily achieve this trek if you focus on the right kind of training and the preparation. It is one of the best off-the-beaten-trekking in Nepal which will both challenge and calm your soul.
We, Adventure Himalayan Travels and Treks, assure you to make your memories about this trek worth remembering for lifetime by providing you the local experienced guide, who will be there with you to deal with the Kanchenjunga Base Camp difficulty. If you want more information about this trip, don't hesitate to contact us. We love to serve you!!
Frequently Asked Questions
Is Kanchenjunga Trek suitable for me?
If you are someone looking to explore the remote areas of Nepal which are full of wilderness, then definitely Kanchenjunga trek is the best visit for you. Besides this, if you believe in maintaining physical strength before starting the trek, then this trek must be on your bucket list. Undoubtedly, this trek is suitable for all the experienced as well as beginner trekkers with the right amount of preparation and training. Just believe in yourself and go for a guided tour to make this trek more adventurous.
How to reach Kanchenjunga Base Camp?
The actual trek to Kanchenjunga Base Camp begins from Taplejung. Either you trek from south to north or north to south, your entrance point for this trek is Taplejung. Firstly, you need to catch a 45 minutes shirt and scenic flight from Kathmandu to Bhadrapur. Then, you can enjoy the 30 minutes jeep ride to Birtamod through the paved and smooth road. Birtamod is around 16km away from Bhadrapur. From Birtamod bus station, you can take a bus which will lead you to the Taplejung. It takes around 5-6 hours to reach there.
Which is the best time to visit Kanchenjunga North Base Camp?
Spring (March, April, and May) and autumn (September, October, and November) are the best times to visit Kanchenjunga North Base Camp. These seasons provide warm and pleasant temperatures, no or little rainfall, no problematic snowfall, clear visibility and cloudless skies. Also, these seasons provide you a chance to observe the happy faces of locals as during this time local people carry out most of their economic activities.
You can also trek in winter (December, January, and February) if you love to play with snowfall. However, the trail full of snow may increase the Kanchenjunga Base Camp difficulty. Finally, monsoon (June, July, and August) is the rainy season and we personally don't recommend you to trek during this time. Because of heavy rainfall, there is high chance of landslide and flood. Also, the route is slippery and muddy.