If you are a true trekker, you can't miss the opportunity to be a part of Nepal's most rewarding trek - Kanchenjunga Base Camp Trek. Located on the eastern border of Nepal, this trekking trail is less trek than Everest base camp trek and Annapurna base camp treks. Because of its detachment from the outer world, Kanchenjunga base camp is regarded as off-the-beaten-path-trek.
Being a restricted area with the lack of infrastructures and difficult trails, a guide to trek in the Kanchenjunga area is mandatory.
Roaming around with the guide is always the best thing, be it for safety or for cultural and local knowledge. Kanchenjunga Base Camp was only opened in 1988 for the trekkers. In recent years, many tea houses have been opened resulting in easy accommodation. So, it is also called tea-house trek. Previously, Kanchenjunga was famous for camping treks.
Being a restricted area, you need a special permit to enter this region. And a special permit includes the need of a guide and at least 2 people.
It has only been a few years since this trekking region has been welcoming thousands of trekkers. If you are someone looking to trek untouched captivating trekking trails of Nepal, then Kanchenjunga trek is the only choice for you. Here we have listed 10 reasons to trek Kanchenjunga Base Camp with the guide to make lifetime experience.


1. Remote and Off the Beaten Trek
Kanchenjunga base camp is off-the-beaten-trekking region of Nepal. It is fully remote, pristine and intact from the outside world. Despite its eye-catching natural beauty, only a handful of the visitors trek to this area. Low inflow of travellers have completely isolated this trail and have made the need of a guide to explore its remoteness. With the help of a trained and skilled guide, you can explore the hidden views of this remote region.
Because of the less popularity and low influence from the modern world, you can get to experience the traditional touch on the life of the people. Similarly, the ancient cultural heritage has its original value. Moreover, you can find the tradition that was being developed by our ancestors and their generation following them as it is.
2. Kanchenjunga Conservation Area
The main attraction of the Kanchenjunga base camp trek is you get to explore the Kanchenjunga Conservation Area, home to numerous flora and fauna along with varieties of wildlife. It covers a total area of 2,035 square kilometers. You can perform activities like bird watching and floral exploration on your trail by the help of an experienced guide. It consists of 250 species of birds including Fulvetta, Snow Cock, Ashy Drongo, Impeyan Pheasant etc. It also consists of some endangered wildlife like Snow leopard and Red Panda. It Consists of 30 rhododendrons, 69 orchids and many other species of plants like lilies, primula etc.
3. Opportunity to Travel in Group
Being the restricted area of Nepal's great Himalayas, the government has made the rule of having at least 2 members for Kanchenjunga base camp trek. Group travelling is the solid idea if you want to obtain infinite entertainment on the way. Group consisting of an experienced guide adds more value in this trek. You will not only see views, but you will also be able to collect the information about this trail.

Those who love to travel in groups, by sharing experiences and stories of their travelling with each other, this trekking trail is waiting for you. Make your group, plan the trek, and book the tickets. Travelling in groups and with a guide is popular to avoid the Kanchenjunga trek's difficulty and excessive cost.


4. Tackle the Kanchenjunga Trek's Difficulty
Kanchenjunga trek is demanding as the highest point of Kanchenjunga North Base Camp is 5,200m. It also goes through several hard ascends and descends. With the increasing altitude on the trek, the Kanchenjunga's difficulty level also rises. However, one can easily tackle this difficulty as for this trekking trail you need to have one registered guide. Trekking to the Kanchenjunga Base Camp becomes less difficult and more comfortable with the help of a registered guide. Language barrier, exact route towards the Kanchenjunga trek, finding the tea house in a remote area etc. can be solved with the help of a local guide. Knowledge of the trekking guides can help you to easily pass the dangerous trails, difficult high passes,
valleys, rocky paths etc.
5. Crossing High Altitude Passes
Kanchenjunga base camp trek offers you mesmerizing beauty along with the moderate level of difficulties. Passing the challenges successfully depends upon your chosen guide. Crossing
South and north base camps along with the three high altitude passes - Sele La pass (4,200m), Mir-gin La Pass (4,026m) and Sinon La Pass (4,663m), make this trek number one choice for the adventure fanatics. Credit for the success rate of this trek goes all to the guide. This trek challenges your soul as you need to walk on the rough terrain and have to spend many nights on higher altitude. By hiring a skilled guide, you can easily pass through the difficult passes. However, Kanchenjunga's difficulty is replaced by the breathtaking scenery that you get
to observe on the way while crossing high passes.
6. Rich Local Culture and Traditions
The lower part of the Kanchenjunga is inhabited by the Rai, Limbu, Gurung and we can find groups of the Brahmin and Chhetri too. The upper part of the Kanchenjunga is inhabited by many Sherpa people. Because of this reason, the Kanchenjunga area is the mixture of rich local culture and religion. Requirement of guide is must in order to gain the knowledge about mixed culture of this area.
They follow the Tibetan Buddhism as they are influenced by the Tibetan culture. Warm hospitality of the locals and their rich culture and traditions will provide peace to your heart. You can explore different small temples on the lower part of the region. In the upper part, you can explore monasteries, mani walls, prayer flags, and chortens. You can enjoy the trace of Tibetan origins in the belief system of locals.
7. Stunning views of the massive mountains
Viewing the snow-capped mountains and taking photos and videos by flexing those scenes, gives you another level of satisfaction. For this purpose, no other than Kanchenjunga base camp trek can be perfect. It might be hard to reach the actual spot from where visualization of the peaks can be clear. But an experienced guide will easily take you to the spot where you will start drooling because of the crystal-clear panorama. Remember to capture the photographs as it is the only thing that lasts forever with you.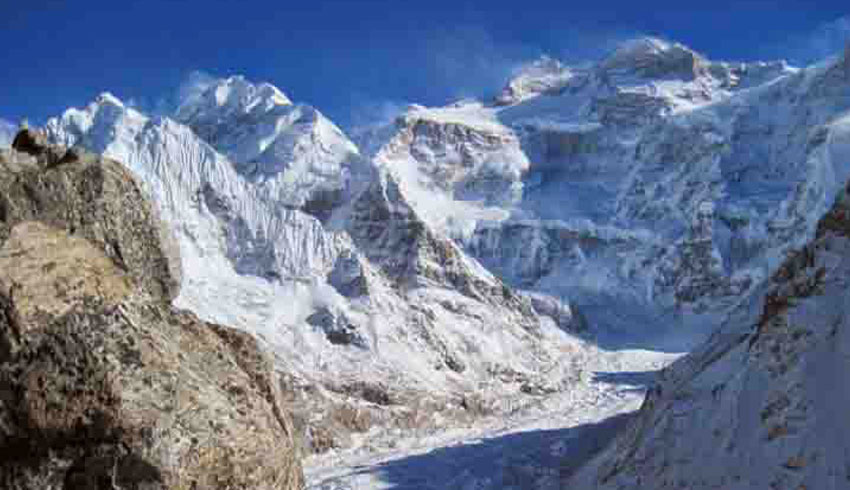 The two base camps of the Kanchenjunga - south base camp (Pangpema) and the north base camp (Oktang) are the perfect point from where splendid peak sceneries of Nepal can be captured. The close-up views of the mountains Lhotse (8,516m), Everest (8,848m), Kanchenjunga (8,586m), Makalu (8,481m) etc. make this trek worth remembering for the lifetime.
8. Stunning Picturesque Valleys and Glaciers
Besides rich culture and high mountains, Kanchenjunga base camp trek offers you the exploration of the many beautiful valleys in the lap of the high hills and Himalayas. Tamor valley, Ghunsa, Ramche, Lhonak, Khambachen etc. are the popular destination areas of Kanchenjunga. You will reach the Kanchenjunga base camp by crossing all these valleys in
your trails.

Glaciers like Nyukla, Kumbhakarna, Ramdung, Kanchenjunga, Yalung, Tso etc. add beauty to the Kanchenjunga. Crossing the difficult valleys and glaciers of remote areas can be hard without any guidance from the guide.
9. Exploration of rivers and majestic waterfall
Trek to Kanchenjunga takes you to the wonderful geography of this area. On the way, you will be able to observe many small rivers like Tamur river, Ghunsa river, Simbuwa river, Walungchung river etc. Because of high and low geography structures, Kanchenjunga area's rivers and waterfalls lie in the corner which can be witnessed only by the experienced eyes of a guide.
You can even witness the spectacular 150-meter-high waterfall on the way to Amjilasa. So, with the help of a registered guide who has enough experience in this field, you can explore all
these hidden rivers and waterfalls.
Note: If you are thinking about trekking alone then you need to obtain 'Ghost Permit' (paying double the permit cost and travelling with the real person's name). It will be your loss as you will have to pay double. Also, you will not be able to have real fun without a guide in Kanchenjunga base camp trek.
10. Kanchenjunga's Permit Cost
As the region is restricted, you will need to get a restricted area permit from the Department of Immigration. To get a permit, there must be at least two-person and a government certified guide. Because of the compulsion of needing a registered guide to obtain a permit, there is no option other than travelling with a guide.
You will need Kanchenjunga Conservation Area Entry Permit (KCAP) and Restricted Area Entry Permit (RAP) for the trail in Tapethok and Yamphuding VDCs.
| Kanchenjunga Trekking Permit | Cost |
| --- | --- |
| Kanchenjunga Conservation Area Project Permit Cost | NRS 2000 per person (no time limitation) |
| Kanchenjunga Restricted Area Permit | USD 10 per person, per week |
| Minimum Requirement of Kanchenjunga Restricted Area permit for 3 Weeks | USD 10*3 = 30 per person for 3 weeks |
We hope we have provided you enough reason to trek Kanchenjunga base camp with the guide. To avoid possible danger, know in depth about the Kanchenjunga trekking trail. To explore the hidden places, to enjoy hassle free trekking and to obtain a permit from the government, you must go for a guide.
While hiring the guide, you must be cautious regarding their license and field experience. Some guides might be cunning and may result in a difficult trek. If you need any help in the selection of the professional and fully prepared guide and extra information about the Kanchenjunga trek, do not hesitate to contact us.

Frequently Asked Questions (FAQs)
How safe is it to travel to Kanchenjunga Base Camp?
Being a moderate level of trekking region and restricted area, Kanchenjunga camping trek is somehow hard. Because of wilderness, your experience will be fully new which might puzzle you. However, it is achievable and easier with the help of a professional guide and by carrying the necessary personal equipment.
How are the accommodation facilities in the Kanchenjunga?
Being a remote region, you can't expect expensive hotels or lodges and modern food menu in this area. You will be able to receive basic facilities which reflect the Nepalese culture. Night at the tea house and the ethnic foods will make you forget your tiresome day.
Is solo trekking allowed?
Being a remote area, trekking solo is not an option for you. To deal with the wild topography, you must need a companion on all your way along with the guide. Even the government of Nepal doesn't allow solo trekking in restricted regions. So, you can't obtain a permit to trek Kanchenjunga if you plan for solo trekking.
What should I pack for the Kanchenjunga trek?
The trails of this region are rough and uneven. For this reason, we recommend you to carry a light backpack. You should be fully prepared for the unpredictable weather change.
Important Packing List
Fleece jacket and waterproof jacket,
Trousers and shirts,
Trekking boots, and warm slippers
Thick and thin socks
Inner wears,
Sleeping bag
Warm gloves, and other necessary hygiene and first aid kit.