Trekking in Nepal has become the dream of thousands of trekkers since Everest Base Camp was first successfully trekked by Sir Edmund Hillary and Tenzing Sherpa in 1953. It is a well-known fact that trekking has been a vital tourism activity since then. While planning for the trek, every trekker has considered buying or renting hiking gear in Kathmandu. There is a good possibility that they have visited or stayed in Thamel before heading to the summit from Kathmandu. Thamel is a heaven for backpackers and has stores offering trekking and mountaineering equipment. So, travel to Thamel if you are planning to rent or buy hiking gear in Kathmandu. It is lined by several gears stores which offer everything you need.
Even though it is possible to purchase almost every piece of equipment in Nepal, it is best to avoid investing in expensive gear. We always recommend renting expensive equipment of good quality.
Most trekkers recognize the importance of trekking gears; however, some novice trekkers don't take their necessity into mind. Also, some people make mistakes very often by either hiring too much or purchasing too much. Most of the trekkers detest squeezing their luggage full of the trekking gears before flying to Nepal. The weight feels like a burden. So, we always recommend renting missing gear in Thamel before embarking on the trip. You may buy or rent trekking gear in Thamel and get fully satisfied with it. Besides, it is also crucial to know about trekking gear lists for Nepal while planning for your trip. It will help you to save your budget and inform you in advance about what is needed.
For lower elevation trekking packages, simple trekking gear is enough. However, while embarking on high altitude treks like Everest Base Camp Trek,Kanchenjunga Trek,Annapurna Base camp Trek, it is recommended to prioritize the high-quality trekking gear.
Buying Trekking Gear in Kathmandu
Thamel is the best place to buy trekking gear in Kathmandu. It is a one-stop shop for mountain adventurers who wish to shop for trekking gear. It is a trendsetting and well-admired central backpacker destination in Nepal. Visitors going to Kathmandu to meet their host and purchase hiking equipment are most likely to stay for a night or two in Kathmandu. These visitors start their trekking journey from Thamel and most likely the hotel in Thamel or nearby the busy road. Almost everything is available in this magnificent small town, from the different grades of accommodation, restaurants, bars, food shops, laundry shops, hair lounges, relaxation centers, to climbing and trekking supplies.
You have two alternatives to buy hiking gear at Kathmandu and Thamel: either purchase high-quality/average quality items at a high price or falsified products at an affordable price. It is your call!!
Branded Retailers Gears Vs. Local Retailers Gears
Kathmandu houses several branded retailers offering high-quality trekking gear. They are internationally recognized brand names and are guaranteed to be real things. Buying branded retailers' gear is the best option if you plan to spend some time in the Himalayan region and wish to invest in decent gear. It is worth investing in something that lasts for a lifetime. Such products tend to be coats, Goretex jackets, and backpacks, which will provide years of usage. These retailers are less expensive than their western equivalents but don't make a sufficient difference. They are around 5% cheaper with limited styles.
Make sure that you double-check the quality and brand when you buy hiking gear in Kathmandu. The cause for this is that certain distributors are selling falsified products as brands.
Local retailers produced the gear by recycling authentic cold weather equipment and specialty products especially found in Nepal. Kathmandu is the hotspot for knock-off brand-name trekking gear, where the quality difference is frequently difficult to discern. Many products are produced in Chinese factories using the same sewing machines used for brand-name products. Some products are even made from low-quality materials and may contain counterfeit logos. But the good news is that it is far less expensive. You might notice subtle quality differences in local trekking gears like a weak stitch, wrong fit, breakable zip, and likewise.
It will be hard for the trekkers themselves to identify whether or not the gears and their logo are real. So, we always suggest you ask your guide and trekking company for a good recommendation. Most guiding companies have good business relationships with branded as well as local retailers, so you might also get an extra discount.
Buying from Branded Retailers
Genuine stores are selling branded clothing and gear around Thamel and Durbar Marg. For those people who often go hiking, it is usually advisable to get excellent gear and equipment, which endure longer. Just picture the aggravation and worry you have to deal with because of the low-quality items you purchased in an attempt to save a few pennies. Imagine the boats worn out in a trekking path in the middle of nowhere. Imagine the obstacle to your trekking success. Gosh, it's painful! However, you don't need to worry as most of the branded retailers are present in Kathmandu.
Some of the renowned brands on the way from Durbar Marg to Thamel i.e., Tridevi Sadak are:
North Face Kathmandu Store: Tridevi Sadak, Thamel
Sherpa Kathmandu: Narayanhiti Path, Lal Durbar Marg
Red Fox Kathmandu: Narayanhiti Path, Durbar Marg
Mountain Hardwear Shop Kathmandu: Tridevi Sadak, Thamel
Black Yak Kathmandu: Narayanhiti Path, Lal Durbar Marg
Buying from Local Retailers
The trend of buying from local retailers is flourishing in Kathmandu. Even though the quality between branded and local gears is not easy to detect, they might result in several issues during trekking. So, the proper concern is most while buying from them. There is a plethora of stores of this type in Thamel. One of the main problems of these types of stores is high price differentiation. Prices are not listed on the items and sellers price them out of thin air. However, some local retailers are trustworthy and highly recommendable by every authorized trekking agency and trekkers.
Renting trekking gear in Kathmandu
As we stated before, buying trekking gear in Kathmandu is a lot for budget trekkers. If you are not exactly a trekking person, but you want to visit the Himalayan for entertainment purposes, renting the necessary equipment might be an economical and superior decision. You may rent from a down jacket to a sleeping bag for USD 1 a day per item. Rent it if you miss anything and want to save money. Make sure you rent from a trustworthy store.
It is difficult to find the rental shops in Thamel as they are hidden beneath the main road. So, we suggest you take help from your guide or local trekking company who is helping to organize your trip. They will help you locate the best and reliable rental shops in Nepal.
Where to rent trekking gear in Kathmandu?
Not all trekkers are fans of buying hiking gear in Kathmandu. So, for those trekkers, renting camping gear in Nepal is the best option. For many trekkers, especially the budget ones, this has been a wonderful deal. Trekking equipment is available for rent up to USD 1 per day at Thamel. If you don't prefer buying expensive trekking gear, but want to enjoy the trek comfortably and safely, then rental shops in Thamel welcome you. From a sleeping bag, down jacket to hiking boots, everything is available for hire in Kathmandu.
Therefore, renting trekking gear in Kathmandu is certainly a smart option. There are various rental shops in Kathmandu. Some of the most recommended ones are as follows:
Shona's Alpine: Thamel
Kalapathar Trekking Store: Saat Ghumti, Thamel
Gears Nepal: Thamel
Goreto Gear Traders: Bhagatibahal Marga
Samden Sherpa: Jyatha, Thamel
Major Trekking Gear Renting in Kathmandu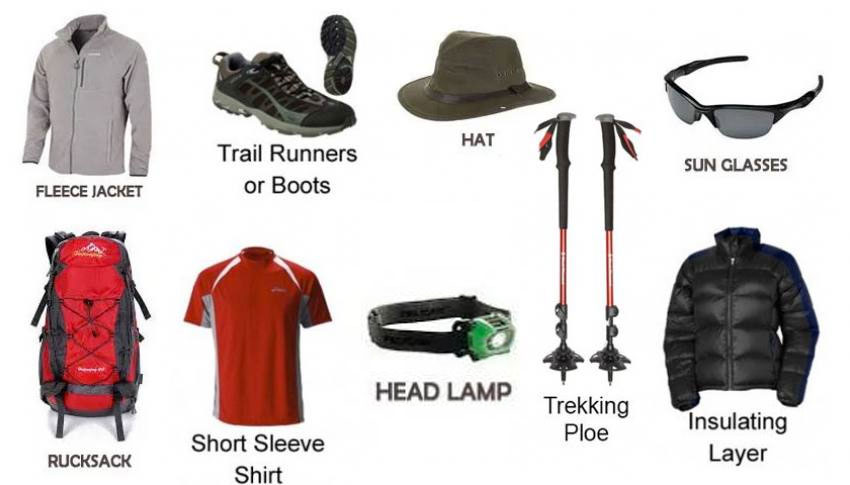 It is wise to buy some of the basic items, which are low in price like hiking socks, basic clothing, light fleece, and all other comfortable stuff. However, when it comes to expensive equipment like sleeping bags, down jackets, and so on, it is always best to rent and return them once you complete the trek. Some of the major renting trekking gear in Kathmandu are:
1. Down Jacket
The down jacket is the garment packed with feathers and worn above the other clothes. It makes your body warm and also helps to maintain the temperature. Down jackets are usually heavy and expensive. So, to avoid heavy luggage, trekkers prefer renting it once they arrive in Kathmandu.
2. Hiking Boots
Hiking boots are shoes intended primarily for preserving your foot and ankle during a walk on uneven terrain. It also helps with blisters and aching feet. They are expensive and heavy, so trekkers are more onto renting them rather than buying them.
3. Sleeping Bag
Sleeping bags act as a bed in the ground and are coated with plastic. They are comfortable and assist in keeping people warm even in the cold. It also defends many animals and insects. Most trekkers prefer to rent sleeping bags as they are expensive and are not usable on other normal days.
4. Camping Tent
Camping tents provide shelter while you are in camp. They protect you from heat, rain, and other undesirable situations. While some hikers don't always camp, and others don't want to store them in their apartment. So, it is always a good idea to rent them.
5. Trekking Poles
Trekking poles, often known as walking stickers, are used by walkers to maintain peace and stability over difficult ground. It helps walkers lower their body burden and makes them able to walk longer than anticipated. Since it is used less and involves less physical touch, it is best to rent at a cheaper price.
Tips and Advice
If you don't plan to trek very often and use trekking equipment rarely, it is advisable to rent them.
Make sure your hiking boots are sturdy and broken in. So, it is best to carry them from your home.
Don't always go for knock-off products with the hope of saving more as sometimes renting can hurt lots.
Remember, you need to deposit a hefty amount of money before renting the camping gear in Nepal. Rental shops will return your amount after you return the equipment that you rent.
Don't forget to check the review of the stores before buying or renting the gear.
Bargaining is key to buying the trekking gear at a reasonable price. So, don't feel awkward about bargaining until you see the fixed-price tag.
Remember popular branded equipment is as costly as in your nation.
If you choose to complete the gear list in Kathmandu, make sure to schedule at least one or two days to pursue it.
Some stores in Kathmandu provide the facilities of paying in US Dollars or Euros.
Buying or renting trekking gear in Kathmandu provides many alternatives to trekkers. It all relies on their preferences, plans, and budget. Moreover, it is best to rent gear instead of purchasing if you don't love to trek very often. Furthermore, try to bring hiking boots from your home country, which are reliable and broken in. Besides, while arranging a vacation trip to Nepal, make sure to budget one or two days before you start the trip so you can get enough time to invest in reliable gear. Finally, don't forget to relax and enjoy the local delicacies, and the wonders of the Himalayas
We would like to warn travelers once again about pricing and quality differences between knockoffs in Kathmandu, so make sure to contact your trekking company or guide to know where to shop.
We, Adventure Himalayan Travels and Treks, have been leading trekkers to the most popular trekking destination in Nepal for many years. Because of our many years of experience, our expert specialists have very good knowledge about both branded as well as local retailers in Nepal selling and renting trekking gear. We also have built legitimate relationships with lots of buying and rental shops. So, if you have any queries about where to buy or rent hiking gear in Kathmandu, please don't hesitate to contact us. We are always delighted to help you!!
Frequently Asked Questions (FAQ)
How much does it cost to hire trekking gear in Kathmandu?
If you are on a budget journey, then it is always recommended to rent hiking gear in Kathmandu. It will function very well for the duration you intend to undertake. You also can save money and space in your bag by renting camping gear in Nepal. The average cost for renting the crucial trekking gear in Kathmandu are:
| | | |
| --- | --- | --- |
| Trekking Gear | Size & Temperature | Cost/day |
| Hiking Boot | Any size | USD 1 |
| Sleeping Bag | 10°C to 20°C | USD 1-2 |
| Camping tent | Ridge/Dome | USD 3-5 |
| Down Jacket | Any size | USD 1.5 |
| Trekking Poles | Any | USD 1 |
Note: As per the quality and size of the trekking gears, the cost may vary by USD 0.5 to USD 1 (NPR 60 - NPR 120).
How much does it cost to buy trekking gear in Kathmandu?
Traveling light from homeland is an easier alternative for trekkers. Also, it is usually a good idea to bring your hiking shoes, suitable basic clothing, and technological devices such as a camera, chargers, flashlight, or iPads, among other things. The majority of these gears and equipment are readily accessible in Kathmandu at reasonable costs. Don't forget to bargain as it is key for buying the gear at the best prices. The rates may change somewhat from one store to the next, although the variation in costs is not so high. The following are some estimated prices for trekking gear and equipment that hikers can buy or rent.
| | |
| --- | --- |
| Trekking Gear | Cost |
| Backpack (55l - 65l) | USD 35-45 |
| Daypack (25l - 35l) | USD 25-35 |
| Fleece Set | USD 15-20 |
| Hiking Shirt | USD10-15 |
| Hiking Short | USD 15-20 |
| Hiking Pant | USD 20-25 |
| Hat | USD 3-5 |
| Trekking Shocks | USD 2-3 |
| Windproof Gloves | USD 10-15 |
| Water Bottle | USD 3-5 |
| Sunglass | USD 15-20 |
| Trekking Poles | USD 5-7 |
| Headlight | USD 20-25 |
| Scarf | USD 2-4 |
Note: The price may vary slightly as mentioned above. Also, the price is set in local currency by the sellers. This is converted into USD to provide some idea about the basic price. Some shops also accept currency like USD, EURO, and AUD.
Should I rent my trekking gear or buy them?
Issues like money, real necessity, and practicality impact renting or buying trekking gear. First and foremost, if you are an obsessive trekker who regularly goes on trekking vacations in Nepal or elsewhere in the globe, investing in a solid set of essential clothing and gear is a wise decision. However, if you prefer trekking only once in a few years, renting trekking gear is a recommendable option.
We always encourage our clients to purchase essential products, such as hiking shoes, and daypacks. Other equipment like sleeping bags, walking poles, down jackets, and camping tents are easily rentable in Kathmandu. However, some trekkers might be allergic to sleeping bags and down coats used by others. In rare instances like such, we recommend you acquire or carry your goods.