Mera Peak (6,476m/21246.72ft.), popular as the best peak climbing in Nepal, is a stunning mountain in the Everest region. It is one of the easy trekking peaks, attracting both novice and experienced climbers. It may be an easiest mountain climb in Nepal with unobstructed access and not-too-difficult paths. However, if you wind up walking the mountain in terrible weather, the expedition will be a disaster. As a result, you must exercise extreme caution while selecting the best time to climb Mera Peak; else, reaching the summit will be impossible. So, try to plan your Mera Peak expedition during the Autumn (September, October, and November) and Spring (March, April, and May), which is the best season to climb Mera Peak.
You still can attempt the Mera Peak climbing during Summer/Monsoon and Winter seasons with extra preparation and planning even though these seasons are less desirable.
Mera Peak expedition is an exciting adventure through sand and frost to the summit of the tallest trekking peak in Nepal. A season is never a hindrance for any dedicated trekker, but rather a challenge and inspiration to make the most of the experience. Likewise, many climbers completed their climbs even in the off-seasons. However, an excessive cold may be hazardous to others, particularly those who are new to mountaineering. So, if you are a novice, it is preferable to select the best time to climb Mera Peak. Remember, Mera Peak is not a technically challenging peak to climb; it all relies on how tolerant you are with harsh colds and high altitudes.
Autumn and Spring seasons overlap with the Everest climb and island climb schedule, thus you will see numerous Everest and Island expedition teams along the climbing path.
So, if you want to climb Mera Peak, you should have all the information you need, including the best season for the Mera Peak climb, a packing list for the Mera Peak climb, and so on. Here, we will provide you with information about the weather and climate around Mera Peak. Let's get into it!
Climate in the Mera Peak Climb
The climate in the Mera Peak climb varies greatly, from moist subtropical in the lower sections to perpetual snowfall at higher altitudes. The Himalayan area begins as the ridges climb over 3,300m and continues into the subalpine and alpine zones of Mera Peak. These areas are generally covered with snow and are the coldest portions of Nepal all year. This region of Mera Peak has a significant impact on the climate of the entire nation as well as the Indian subcontinent.
During the winter, the huge Himalayan range prohibits cold air from Inner Asia from entering Nepal, resulting in a relatively dry winter in Mera Peak. However, the winter temperature in this region can drop below 0°F/-17.78°C. The subalpine zone can have up to 230 days of frost, but the alpine zone has frost cover for most of the year. While starting your Mera Peak expedition, you will pass through a variety of climates. So, by understanding all those climates, you can pick the best time for climbing Mera Peak. Here, we have presented the different climates that you will experience on this trip.
| | |
| --- | --- |
| Climate | Altitude |
| Temperate Climate | 1,200m-2,100m |
| Cold Climate | 2,100m-3,300m |
| Subarctic Climate | 3,300m-5,000m |
| Arctic Climate | 5,000m to above |

Weather in the Mera Peak Climb
Regarding temperatures, humidity, and precipitation, the weather in the Mera Peak climb is one of the extremes. Across the year, the temperature at the base camp and high base camp hardly rises above 0°C, and the stinging winds that sweep through the Himalayas make the temperatures seem considerably worse. December to February are the chilliest months of the year, when temperatures drop below 0°C even during the day, with the hottest months being July and August when it rains heavily. The best months to climb Mera Peak for most people are April to May and September to October.
Also, the altitude of Mera summit is 6,476m (21246.72ft.), which means you will find yourself four-five levels higher from your beginning point when you arrive. This implies you'll have to deal with a variety of weather conditions along the way. The temperature around you drops as you gain height, and you will experience a fierce and harsh breeze. As a result, you must be aware of the minimum and maximum temperature of Mera Peak.
| | | | |
| --- | --- | --- | --- |
| Months | Minimum Temperature (°C) | Maximum Temperature (°C) | Cloudiness |
| January | -20°C | -4°C | Very Low |
| February | -20°C | -4°C | Very Low |
| March | -15°C | -1°C | Medium |
| April | -10°C | 5°C | High |
| May | -5°C | 10°C | High |
| June | 3°C | 14°C | Very Low |
| July | 5°C | 16°C | Very Low |
| August | 5°C | 16°C | Very Low |
| September | 0°C | 12°C | Medium |
| October | -6°C | 8°C | High |
| November | -11°C | 1°C | High |
| December | -14°C | -2°C | Low |
Note: The weather in mountainous regions can change dramatically relying on the meteorological condition, so it's best to check the forecast for the next few days and, in any case, rely on competent guides.
Seasons in the Mera Peak Climb
Within the country, Nepal has a wide range of temperature and meteorological conditions. This is owing to the varied terrain and elevation. Nepal has four distinct seasons. Temperatures may fluctuate from region to region, but the seasons are consistent across the country. Nepal has four seasons: spring, summer (monsoon), autumn (fall), and winter. Each of these seasons lasts roughly around three months.
Each season brings a new challenge to the Mera Peak expedition. The climbing that occurs in the spring is not the same as that which occurs in the autumn. This difference in experience depends upon the climate and weather of each season. Each of the four seasons, namely Spring, Autumn, Summer, and Winter, has distinct climatic characteristics. Among these four seasons, autumn and spring are the best times to climb Mera Peak. Summer/Monsoon and Winter seasons, on the other hand, are less desirable for the Mera Peak climb.
| | | | |
| --- | --- | --- | --- |
| Seasons | Months | Crowd | Recommendation |
| Spring | March - May | Extremely High | Highly Recommended |
| Monsoon/Summer | June - August | Extremely Low | Considerable |
| Autumn | September - November | Extremely High | Highly Recommended |
| Winter | December - February | Low | Considerable |
To learn why Autumn and Spring are the ideal times to climb Mera Peak, and why Winter and Summer aren't, read the entire article. We have explained each season at Mera Peak below:
Peak Seasons to Climb Mera Peak
The ideal seasons for peak climbing in Nepal are spring and autumn. During the peak seasons, hiking trails are overrun with trekkers and mountaineers. Similarly, the pathways of Mera Peak are crowded throughout the Autumn and Spring seasons. Let's take a look at each of the top seasons within the following categories:
1. Autumn Season (September-November)
Autumn is the best season for climbing Mera Peak. The Autumn season, which lasts from September through November, has the busiest trails. Likewise, the air is crisp and cool in the autumn. It is the season of the beautiful sky and unobstructed mountain vistas. Everything appears to be gorgeous from every aspect. The only thing missing from the Autumn season is blooming flowers, but everything else is exactly right. From mid-September to late November, the weather is consistent, clear, and dry. This is why most hikers and climbers choose the autumn season.
Even though Autumn is the best time for climbing Mera Peak, you still need to face some difficulties in booking domestic flight tickets, guides, porters, and accommodation services. Moreover, there is a huge crowd throughout the trails leading to numerous tents and climbers.
September is the first month of the Autumn season, which follows the end of the Monsoon season. As a result, precipitation still occurs in early September; however, the rainwater during the Monsoon season sweeps away all the dirt from the landscapes. October is the best month to climb Mera Peak as there is no rainfall or snowfall to obscure vistas of peaks, local communities, and so on. You will be able to enjoy warmer days and cooler nights. Minimal snowfall begins to fall from mid-November, and the temperature begins to plummet. So, your packing list for the Mera Peak climb must contain warm clothes.
2. Spring Season (March-May)
Spring is another best time to climb Mera peak. It is an unrivalled season for any excursion, which lasts from March through May. And these are the busiest months for hiking as well as expeditions in Nepal. It is the season of blooming flowers and lush greenery. The routes to Mera Peak are wonderfully ornamented with a variety of bright flowers and vegetation. The climate and temperature are consistent and favorable for mountaineering in the spring. The dry and sunny weather results in a great vision of the environment. During the spring, the landscape is breathtaking, with a huge section of Rhododendron and Oak trees.
We all know that everything excellent has a cost. In the same way, climbing in the spring has certain downsides. During this season, it is exceedingly difficult to get a porter and guide, as well as limited access to housing, excessively packed routes, exorbitant prices for basic services, and so on.
March is the beginning month of Spring when the temperature is slightly cooler as you can still face light snowfall. However, the snow starts to melt from mid-March and brings clean and dry weather. Among all three months, April is the best month for the Mera Peak climb as there is no rainfall or snowfall throughout this month to detract from the breathtaking scenery. May is slightly warmer than April since the monsoon begins to show gradually, and you can also see the weird haze at the low altitude.
Tips for Climbing Mera peak in Peak Seasons
Carefully arrange your journey with an authorized local trekking agency since they are the only ones who can reserve the best lodging beforehand, even when the number of trekkers in this region is exceptionally high.
Acclimatize your body enough before heading up towards Mera Peak.
Avoid doing a solo climb to Mera Peak and instead engage an expert climbing guide who will assist you in accomplishing your adventure with less difficulty.
Consider climbing Mera Peak through alternative routes.
Bring a sleeping bag with you because additional rugs may not be available at the tea house due to crowding.
Because the temperature is slightly higher at lower elevations, bring SPF 40+ sunscreen to minimize sunburn and allergies.
Be emotionally and physically ready to deal with the busy trail during the journey.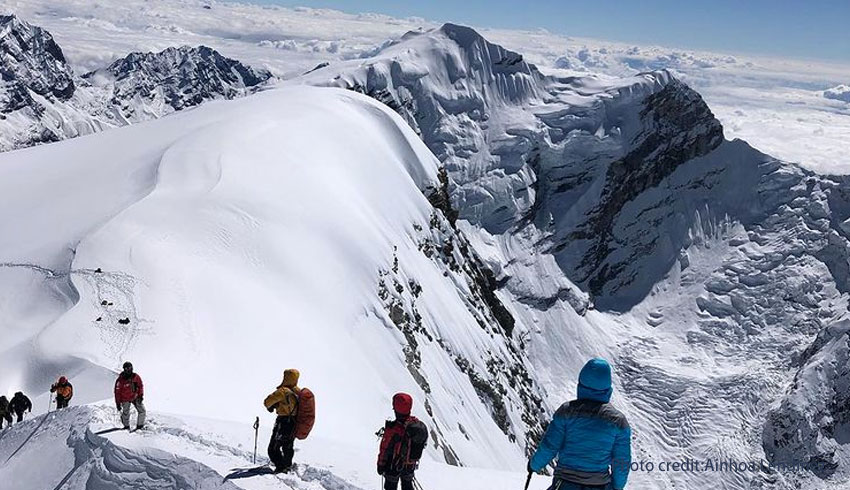 Are you looking for fixed departures?
All of our 2021/2022 set departure dates are guaranteed and affordable. If the listed dates do not correspond to your available schedule, we would gladly set up a new day to suit your needs. Plan your vacation with us, and our adventure consultant will assist you in creating a customized itinerary that includes all of the activities you wish to participate in.
Off-Seasons to Climb Mera Peak
The two least popular seasons for mountaineering in Nepal are winter and monsoon/summer. The coldest season is winter, while the rainiest season is monsoon. This is why most trekkers and climbers avoid climbing in Nepal during these seasons. The Mera Peak Climb is doable during the off-seasons with proper preparation and equipment, but we don't recommend it. Below we have explained each of these seasons so that you can learn more about them.
1. Winter Season (December-February)
Winter is a season of snow and super cold temperatures. In Nepal, the winter months are December, January, and February. During the winter, the summit of Mera Peak experiences strong winds and extremely frigid temperatures. The weather is frigid and freezing. The Mera Peak paths are more serene and less congested. It is a distinct experience from peak seasons such as Autumn and Spring. Mera Peak expedition in winter comes with many advantages like the possibility to get discounts, no rainfall resulting in clear mountain views, easy to book accommodation and internal flight tickets, and so on.
There are high chances of flight delays and cancellations during winter because of heavy snowfall and freezing temperatures. So, always make sure to budget one or two days before you start the trip so you can tackle the difficulties of Mera Peak climbing.
The first few weeks of December and the last few weeks of February are the best months for climbing Mera Peak in the winter. You won't be distracted by busy routes; instead, you'll concentrate on reaching the summit of Mera Peak. Also, icy pathways might be an exciting new adventure for you. However, Mera peak climbing during the winter season is a difficult task. Professional climbers are only advised to attempt Mera Peak in the winter with the right packing list for the Mera Peak climb. Remember, the proper equipment and planning are mandatory to deal with the Mera Peak climb difficulty.
Tips to climb Mera Peak in Winter
As much as possible, avoid doing an independent climb to Mera Peak.
Carry additional winter clothes, such as an innermost layer, a down jacket, a fleece jacket, a wind/waterproof jacket, full collared shirts, warm long socks, toe/finger warmers, a hat, and so on. Try to pack sensibly and intelligently.
Bring the nicest sleeping bag you can find to sleep comfortably.
Find a professional climbing guide to assist you during the journey.
Acclimatize your body enough before heading up towards Mera Peak.
Be ready to confront severe snowfall and sub-freezing temperatures at high altitudes.
Keep a modest pace when traveling on a snowy route since it may be treacherous.
Always wear layers.
2. Summer/Monsoon Season (June-August)
Throughout June, July, and August, rain clouds cover the atmospheric level of Mera Peak. The monsoon season, often known as the summer season, is characterized by periodic rainfalls. It is also the season for hot and humid weather. Monsoon is not the ideal time to climb Mera Peak as the trails are muddy and hazardous to walk on. There is a high chance of flight cancellations, landslides, floods, and so on. Moreover, leeches are rolling over the trails. Furthermore, the sky is obscured by rain clouds, which block views of the mountains. However, the scene after the rain is visible, with clear vistas of mountains and washed-out terrains.
The first few weeks of June and the last few weeks of August, on the other hand, are ideal for mountaineering. Early June and last August see no rain, and the paths are also quiet. Additionally, you might also receive discounts and offers on your Mera Peak expedition itinerary. Likewise, it will be easy for you to book guides, porters, flights, and accommodations. So, if you want to go during the Monsoon season, these months are the best time. Carry plenty and proper rain gear for the Mera Peak expedition during the Monsoon season.
Tips for Climbing Mera Peak in Summer/Monsoon
Acclimatize your body enough before heading up towards Mera Peak.
Bring insect protection and table salt, since there will be a lot of leeches and flies.
Always pack a waterproof backpack, clothing, and footwear.
To avoid negative outcomes on the climbing route, always arrange your journey with an authorized trekking agency and employ an experienced guide.
Be physically and emotionally ready to confront the rain and its effects, such as a slick route.
Pack water purification tablets/droplets with you because the water on the route may be harmful.
Note: Try to choose the best time to climb Mera Peak as much as possible i.e., Autumn and Spring instead of planning your climb in the off-season as it might make your journey complicated and hard to succeed.
Overall, Mera Peak is quite high (6,476m/21246.72ft.); however, the ascent is simple. The Mera Peak expedition is a peaceful and magnificent experience. Autumn and spring are the best times to climb Mera Peak. These seasons provide a highly favorable climate and weather for climbing Mera peaks. The weather is steady, and the sights are visible. However, this excursion is also viable during the winter and monsoon seasons. The weather throughout these seasons may be rather extreme. However, with adequate training, the right packing list for Mera Peak, and care, the Mera Peak expedition is reachable all year.
Adventure Himalayan Travels and Treks has been leading an enthusiastic climber towards different popular climbing peaks in Nepal with 98% summit success. We assure our clients' safety by adhering to all safety regulations throughout the journey. Our Mera Peak expedition itinerary is created by travel specialists and experienced guides who have climbed Mera Peak several times. When you book with us, we match you with our finest climbing guide, who has over 20 years of mountain climbing expertise. Moreover, a pre-climb training session at the Mera Peak Base Camp will help you warm up and obtain useful recommendations from our experts.
So, if you've decided to climb Mera Peak, we're here to help you choose the best package. Just contact us, we guarantee superior service from our end.
Frequently Asked Questions (FAQ)
How difficult is it to climb Mera Peak?
Mera Peak is not a particularly tough climb in general. Nonetheless, the difficulty of the Mera Peak is still classified as Physically Strenuous as the final portion of the climb entails ascending a snowy dome at a 50-degree inclination. Moreover, Mera Peak climb difficulty also depends on several elements, including high altitude acclimatization, climatic parameters, physical strength, and altitude sickness.
Likewise, when compared to other summits such as the Island Peak expedition, it is not a very challenging peak to ascend from a technical standpoint. Mera Peak, on the other hand, is higher than the others. The majority of the climb is a straightforward ascent that includes a glacier walk and demands just a moderate degree of mountaineering expertise. Climbers need to use crampons and an ice axe, but there is plenty of time to acquire these abilities at the foot of the peak.
Train yourself and take the appropriate efforts to deal with the Mera Peak difficulty. Mental preparation is just as crucial as physical planning. Likewise, a professional and dependable Sherpa guide is most for your proper and secure Mera peak climbing.
How long does it take to climb Mera Peak?
The ascent to Mera Peak begins slowly and is heavily dependent on weather conditions. It will take around 3-4 days depending upon the weather from the base camp. Likewise, it is a 661m ascent from Mera high camp to the Mera peak. The time it takes to reach the peak can vary depending on your efficiency, but it should take roughly 6-7 hours with rest intervals. At maximum, the summit day takes 10-12 hours. Moreover, the overall itinerary of the Mera Peak expedition can be as long as 18-24 days. You can customize the itinerary as per your available dates and preferences.
Can I climb Mera Peak as I am a novice climber?
Yes, Mera Peak Climbing is a simple, non-technical climb that is perfect for novice mountain climbers in Nepal. Besides crampons and ice axes, you don't need any particular climbing skills for this peak. The mountain offers minimal to non-technical problems; there are 3-4 minor opening crevasses along the ascent, but otherwise, the climb is simple. Indeed, climbers must travel through several challenging areas of the mountain. Those challenging areas, however, are not very difficult; a climber with basic mountaineering skills and greater planning may traverse them.
Mera Peak can still be physically difficult for novices. We strongly advise you to train for at least 6 - 4 months before your journey. Climbers need to be physically fit and have a lot of stamina by engaging themselves in preparatory fitness and altitude training.