Planning for a trip to the Himalaya Nepal is a very tricky decision. First, you need to decide about 'Which Trek to do in Nepal?' After this, your other major concern is about 'When to Trek in Nepal?' Remember, selection of the best month for trekking in Nepal is a must to increase your success rate. Trekking in Nepal is possible throughout the year; however, looking upon features of destination, one specific time can be chosen to experience the best. Autumn (September to Late November) and Spring (March to mid-May) is considered as the best trekking season in Nepal.
Having two best seasons doesn't mean you need to trek in Nepal only in between these times. It can be accomplished throughout the year depending upon the region you are trekking.
Climate of Nepal
Because of the wild differences in altitude, climate in Nepal has quite a noticeable differentiation. Climate of Nepal in low lands (below 1,200m) are subtropical, mid-lands are warm (1,200-2100m) and cool (2,100-3,300m) temperate, and high mountains are alpine (3,300-5,000) and tundra (above 5,000m). So, by studying the weather of Nepal and travelling with a guide, you can easily identify the pros and cons of each trekking season in Nepal. And you can make the ideal choice for trekking in Nepal.
Before rushing towards any trekking trails in Nepal, know about yourself, your feelings regarding crowds, your capacity to tolerate heat, cold, and rain etc. as it will contribute a lot in selection of the best trekking time in Nepal.
Weather in Nepal
Weather in Nepal keeps on changing from time to time. In each season, you get to experience a different weather pattern. In the same way, different weather brings different views, pros and cons. Because of this reason, it is very crucial for you to know about the weather and season in Nepal. In some regions, you will be experiencing the low temperature, whereas in some regions, you will be facing hot and humid temperature. However, every weather changes in Nepal bring something new to experience and observe.
Season in Nepal
In Nepal, you can find mainly four different kinds of seasons i.e., spring, summer/monsoon, autumn, and winter. Each season differs from one region to another and has its own features.
| | |
| --- | --- |
| Season | Month |
| Spring | March, April, and May |
| Monsoon/Summer | June, July, and August |
| Autumn | September, October, and November |
| Winter | December, January, and February |
Below we have tried our best to explain about the different months and seasons in Nepal so that you can easily identify one specific time to embark on the chosen trekking trail in Nepal.
1.Autumn Season (September-November)
Spanning around September, October, and November, Autumn is regarded as the best season to trek in Nepal. This season arrives just after monsoon so the rainfall clears the dirt and pollution from the trail. As a result, you get to observe the warm and pleasant temperature, low or no rainfall, no harsh snowfall, magnificent panorama of high Himalayas etc. Besides this, you also get to witness the varied vegetation of Nepal, which spreads the fresh air all around the environment.
Trekking in autumn means dealing with the crowded route. Since this season has so much to offer, people from all around the world plan their trip at this time because of which trekking trails are full of trekkers. Also, it is hard for you to find guide, porter and accommodation services.
Best Autumn Treks in Nepal
Autumn is perfect for trekking in the Himalayas' region in Nepal. Higher mountains trekking, home to the classic treks in Nepal, can be accomplished successfully in this season because of stable weather.
Some classic treks in Nepal are;
If you want to avoid the crowds, then you can even trek the popular off-the-beaten-treks in Nepal during autumn such as Makalu Base Camp trek, Lumba Sumba Pass Trek, Kanchenjunga Base Camp Trek, Dhaulagiri Circuit Trek etc.
2.Spring Season (March-May)
Spring is considered as the second-best trekking season in Nepal. Pleasant temperature, visibility of the stunning panorama, less rainfall and snowfall etc. are some of the reasons behind the heavy flow of trekkers at this time. Besides these, spring is also very famous for blooming flowers like Rhododendron etc. all over the trekking route which makes the surrounding area vibrant and worth visiting to.
Besides all the advantages, you also need to face some of the drawbacks of trekking in spring. You need to struggle a lot to find a porter and guide for trekking in Nepal, hard to get access to the accommodation, compulsion to pay high cost for basic services, difficult to get through the trail because of extreme crowds etc.
Best Spring Treks in Nepal
Spring is famous for the blooming flowers throughout the trail. So, spring is best for classic trekking routes in Nepal along with other regions which is very rich in flora, fauna, and vegetation. One can get the true colour of the environment while trekking in this season.
Some best spring treks in Nepal are:
3.Winter (December-February)
Revolving around December, January, and February, winter is considered as the off-season for trekking in Nepal. This season is uncrowded and only a few trekkers can be seen on the trail. This season is mainly preferred by those trekkers who love travelling in a serene environment by enjoying their own company. During this season, the skies are cloudless, which makes one of the best seasons to enjoy the unobstructed view of the surrounding mountains.
Even though winter can be an ideal choice for trekking in Nepal, you still need to face some sort of difficulties. Because of occasional snowfall in high mountains, tea houses remain closed. Similarly, trekking routes also get blocked by the heavy snow. Likewise, the extremely low temperature might affect a lot of day-to-day walking and sleeping.
Best Winter Treks in Nepal
Winter is the best time to experience some of the best short treks in Nepal. With the required preparation, you can enjoy the trekking trail having only a few trekkers along with the beautiful sightseeing. Below listed some easy short treks in Nepal can be completed within the short period and also being Nepal's lower elevation trek, there is not so much high effect of winter coldness. The weather remains mild to warm temperatures even in winter in the below listed regions.
Khopra Danda Trek
Kalinchowk Trek etc.
4.Monsoon/Summer Season (June-August)
Summer is also known as monsoon season, when the weather is hot and humid. Likewise, the rainfall is high in this season. It falls in June, July, and August. The rainfall starts rapidly from June and continues till early September. In this season, you will get a chance to trek in lush trails filled with blooming wildflowers. Moreover, the rainfall washes away the dust and dirt of the trail because of which green landscapes can be observed. This season receive low number of trekkers in Nepal as a result you can enjoy the uncrowded journey.
However, most of the high-altitude trekking are completely avoided and closed during this season. Not only the Himalayas region, but some of the trekking destinations of low altitude in Nepal also remain closed because this season is prone to landslides and floods. Moreover, the road and trail become slippery and muddy. Likewise, leeches and mosquitoes make the trip harder. So, you need to be more focused when trekking in Nepal in winter.
Best Monsoon Treks in Nepal
Some of the best off-the-beaten-treks in Nepal are best to carry out in monsoon. There are some of the regions in Nepal situated in the rain shadow of the Himalayas which receive little or no rainfall even during monsoon. Most of those regions are grouped under less travelled trekking trail and they are:
Lower Mustang Trek
Upper Dolpo Trek
Lower Dolpo Trek
Nar Phu Valley Trek
Limi Valley Trek etc.
Short trekking around Kathmandu valley also receives low rainfall. However, the areas are hot and humid. So, if you are prepared to face the haze of the sun, then the trekking destinations around Kathmandu valley are also perfect for summer in Nepal.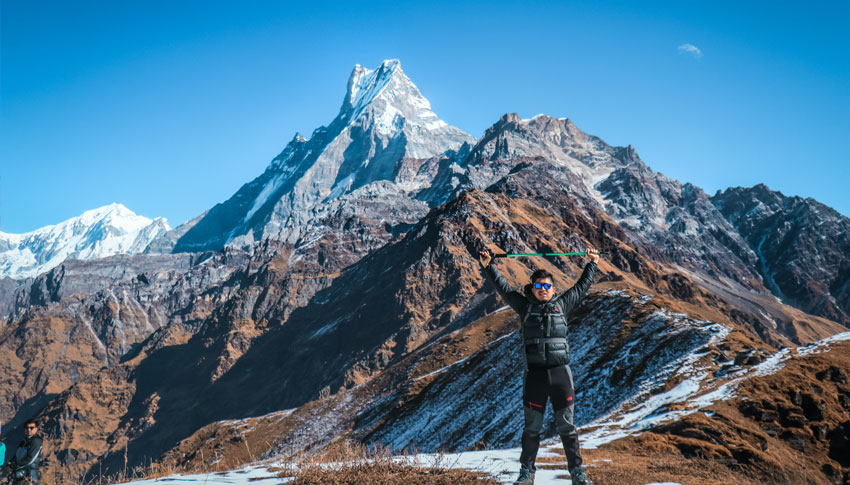 Tips for Trekking in Nepal
Trekking in Nepal is one of the lifetime opportunities to enhance your travel diary. However, without the right kind of planning and preparations, you may not achieve everything that you have dreamt from the trek. So, if you want to know about the tips for planning the holiday trips to Nepal, then here are top five guidelines for trekking in Nepal to avoid the difficulties.
1. Best Month
One of the major reasons behind the success rate of trekking in Nepal is the pleasant and warm temperature. If you want to enjoy the stable weather, then you must be able to choose the best month for your trekking destination.
2. Travel with Guide
Trekking with a guide provides 100% safe travelling in Nepal as compared to solo trek. There are several off-the-path-trekking routes which demand the compulsion of guides to obtain the permits. Moreover, guides have the knowledge about the weather pattern and each corner of the trails, which will decrease the chances of getting lost and stuck in a specific place.
3.Packing List
Do not over pack if you want to enjoy the trip throughout the journey. Carry all the essential items depending upon which season you are trekking by taking guidelines from the travel company and fellow trekkers. Even though you are travelling with a porter, avoiding the excess will be best as they also have their own limit when it comes to carrying your backpack.
4.Physical Fitness
Trekking in Nepal demands moderate physical fitness. Your legs have to be strong as the journey can last for several hours or days. You have to walk continuously for hours and hours with minimal rest. As a result, you may suffer from blisters, aches, and joint pain. So, to deal with such issues, take the training, practice hiking, cycling, walk on the stairs etc. at least 5-6 months beforehand the trip. While practicing, always carry an 8-10kg backpack as it will help you in getting used to it.
5.Book with the Travel Company
It is crucial for all the trekkers to plan their trip with the well-established registered travel agency to enjoy the hassle-free travelling experience. With the help of a trekking company, you can get various services like booking flight tickets, obtaining permits, booking accommodation in advance etc. As a result, you can worry less about the preparations and get more excited about the trip.
Every season in Nepal has its own features and charm to offer you. As per your chosen trekking destination, the best season for trekking in Nepal gets changed. It is true that spring and fall have their own significance while coming to trekking in Nepal; however, winter and summer also have their own certain advantages. So, remember that it is possible to visit Nepal in every season and make unforgettable memories.
We, Adventure Himalayan Travels and Treks, have been running hassle-free trekking in Nepal for several years. Our all decisions are made as per the experience that we have successfully built over all these years. We believe that all the ideas that we have been able to collect about the best time for trekking in Nepal will surely help you in reaching your dream destination. So, if you have any queries or want to get more information about trekking in Nepal, please get in touch with us.
Frequently Asked Questions (FAQ)

When to go trekking in Nepal?
There is no single answer to the above question as trekking in Nepal is possible in every season. Nepal has a plethora of trekking regions, which can be trekked all year round. However, trekkers in order to avoid the hustle and bustle in journey tend to choose Spring (March, April, and May) and Autumn (September, October, and November) as the best time for trekking in Nepal.
Remember, every month has something to offer you and has full capacity to amaze you with the stunning panorama. So, just choose one specific trekking destination in Nepal and plan your trip with us so that our highly expertise group will help you in making the selection of the best season.
Is trekking in Nepal safe?
The answer is yes, yes, and yes because every year thousands of trekkers are flying to Nepal just to experience the beauty of trekking in Nepal. It is obvious to have some problems like Acute Mountain Sickness (AMS), weather changes, route confusion etc.; however, if you prepare yourself mentally and physically by practicing hiking, taking cardio and strength training, then the chances of occurring the possible risks decrease.
By hiring the guide, planning your trek with a trekking agency in Nepal, choosing the right kind of packing list for trekking in Nepal etc. you can easily deal with the difficulties that may arise in the trail. Despite being considered a fully safe nation for trekking, we recommend you not to walk alone in the trekking trail, mostly during night times.
What to pack for trekking in Nepal?
Gear list for trekking in Nepal totally depends upon the destination and the chosen season. In winter, you need to focus more on warm clothes whereas in autumn/spring, a few sets of warm and cool dresses are recommended. Also, the higher the altitude, the more you need to layer. For trekking in lower altitude, basic clothing and equipment are sufficient. Just remember that you need to pack important things by avoiding the excess as it will affect your whole trip.
Some of the most-carried Nepal trekking equipment and gear list are:
Body Wear (Shorts, lightweight t-shirts, trekking pants, rain jacket, down jacket, fleece jacket/trousers, long-sleeved shirts etc.)
Footwear (Hiking boots, sport shoes, socks etc.)
Sleeping bag
Backpack
Cash
Water bottle
Sunscreen and Sunglass
Hat
Camera
Toilet paper
First-aid-kit etc.