Manaslu region, located in western Nepal, is one of Nepal's hidden and remote regions. Yet, despite its remoteness, this region is naturally and culturally vivid and enriched. This trek takes you to the pristine and isolated trail through the Kali Gandaki River. Being an experienced trekker in Nepal, you might be thinking of going for a solo Manaslu circuit trek. However, because of the specific regulations imposed by the Government, you can't trek the Manaslu region without a guide.
Things to Remember before Trekking Manaslu Region
You must travel in a group having at least two people, without including a guide and porter.
Hiring a local licensed guide and porter from the local trekking agency in Nepal is a must for entering this region.
Required trekking permits for the Manaslu trek should be applied through the help of local Trekking agencies in Nepal.
Manaslu Circuit Trek is one of the popular off-the-beaten treks in Nepal, which was opened to foreign travelers only in 1992. The primary reason behind its restriction is that this trekking trail runs in the Manaslu Conservation Area. As a result, likewise Everest Base Camp Trek, Annapurna Base Camp Trek, etc., this trek can't be achieved independently. So, even if you have excellent physical fitness, proper preparation, extreme determination, hiring a professional trekking guide for the Manaslu trek is a must.
Is it possible to do Manaslu Trek without Guide?
Unfortunately, you can't go for Manaslu Trek without a guide. So it might be an unfortunate answer to those trekkers thoroughly planning to go for a trek alone. However, the Government of Nepal has entirely restricted solo trekkers in this region. The Government intention is to protect one of the most rural regions in Nepal, not to hurt the trekkers.
Because of its extreme remoteness, this region has been isolated for very long. So, it is very challenging to walk alone in the trekking trails, which are less visited. Moreover, the Manaslu region is still unexplored and pristine. So, to keep the natural beauty and resources alive for future trekkers, it has to be protected and restricted from frequent visits.
Furthermore, this region is home to several villages which are dominated by Tibetan culture and lifestyle. One can get a picture of the ethnic traditions and lifestyle by exploring all those villages. To promote and preserve the originality of those cultures, all the towns of these regions have been restricted. As a result, you can't stroll around the area alone. The only way to go for this adventurous journey is by hiring a professional guide.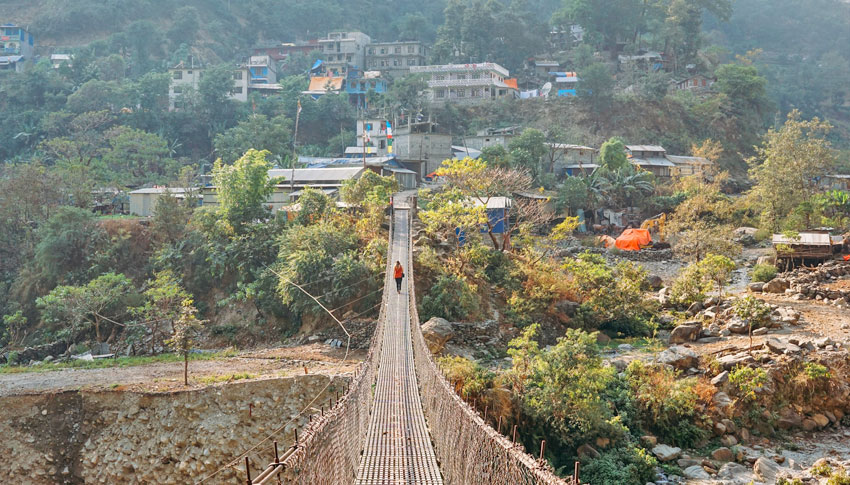 Advantages of Hiring a Guide for Manaslu Circuit Trek
1. Easy Navigation
The Government of Nepal opened Manaslu Circuit Trek in 1992; as a result, trekking trails may keep you in a maze. So, hiring an experienced guide will be very helpful as they can navigate the route quickly, which decreases the chance of getting lost.
2. Safety and Security
When it comes to trekking in Nepal, the main priority of a guide is to provide a safe and secured journey to their clients. So, a guide will help you adjust your body to the high altitude to avoid sickness. If any signs of illness are seen, they will be there to take immediate action and to evacuate you in case of emergencies.
3. Hassle-Free Experience
Hiring a guide from a local trekking agency will help you avoid the preparation's hustle and bustle. They will help you provide hassle-free trekking by assisting you in applying for permits, preparing customized itineraries, giving ideas regarding packing lists for the Manaslu trek, etc.
4. Easy Access to Accommodation
Traveling with a guide means getting access to facilitated accommodation. Therefore, even during the peak trekking season, you will be provided the best accommodation services if you travel with a guide.
5. Break the Language Barrier
Communication will be fluent and two-way if you hire the guide. The guide will act as the translator between you and the villagers, which will help you provide knowledge about the diverse culture and traditions of the villagers.
6. Cope with frequent Weather Changes
If you hire a guide, you can trek the Manaslu region in the best weather. A guide will always research deeply about the climatic condition before taking you to the trekking trail.
7. Deep insight about Manaslu Region
With the help of a guide, you can enrich your knowledge level as they are always ready to answer any of your questions regarding the surrounding areas.
8.Benefit the Local Economy
By hiring a guide, you will be directly helping to promote the living standard of the people and develop the local economy. Many local people of Manaslu region are flying to gulf countries and are forced to live away from their family. However, hiring a local guide will automatically increase the employment opportunities which will help in keeping their families together.
Difficulties in Manaslu Trek without Guide
The difficulty level of Manaslu Trek is rated as moderate. However, you have to trek through many demanding trekking trails because of the ruralness and wilderness, which might put an extra threat to your journey. So, Manaslu Circuit Trek without a guide may result in several kinds of problems, and they are;
1.Altitude Sickness
The highest altitude you need to reach in the Manaslu trek is 5,160m - Larkya La Pass. One can quickly get the sickness of the mountain after going over 3,000m. So, if the solo trekkers are not aware of the mountain sickness and have no idea about dealing with it, it might cause adverse consequences. In a situation like this, a professional guide comes handy as they will be by your side throughout the trail, suggesting techniques to avoid altitude sickness. With the guide, there is too little chance of suffering from sickness.
2. Probability of getting Lost
As said before, the Manaslu region is a less visited trekking destination because of which it's pretty remote and wild. Therefore, if you are in this region without any other person by your side, it will be tough for you to find the exact trekking route. Also, it is not possible to navigate by mobile because this region is still backward when it comes to electricity facilities. So, there is a high chance of getting stuck in the middle of the wild and exotic area.
3. Evacuation
There is a high chance of getting injuries while you are on the trekking trails in Nepal. Its possibility increases even more if you are on the Manaslu trek without a guide. In such a case, a guide is crucial as there are no hospitals near the trail. So, without a guide, there will be no one to evacuate you.
4. Communication Barriers
English is spoken by the Nepalese in modern cities. This trek takes you to the remote villages where people are somehow illiterate and only speak their native language. In such cases, it will be tough for you to interact with the local peoples without a local guide.
Cost of Hiring Guide and Porter for Manaslu Trek
As said before, a guide is mandatory to trek the Manaslu region. Therefore, while applying for the permit, the first requirement to fulfill is hiring a guide from a local trekking agency in Nepal. Also, a companion makes the whole journey easier as they will help deal with altitude sickness, injuries, unpredictable weather changes, navigating, communication, etc.
Porter is the one who is responsible for carrying your backpack throughout the trail. It is recommended not to carry the backpack on your own as it will harden your trek and may result in altitude sickness. Porter carries around 25kgs of load.
Besides these, you also have the option of a guide cum porter who provides both porter and guide services.
| | |
| --- | --- |
| Professional Guide | USD 30 per day |
| Porter | USD 20-25 per day |
| Guide cum Porter | USD 25-30 per day |
Whom to Hire?
As you come to know about three different kinds of guides, you might be confused about whom to choose. We recommend you always hire a licensed local guide from authorized Trekking agency in Nepal as they are the best and experienced when handling the trekkers on the trail. However, if you also have a huge load, we suggest hiring both a guide and a porter.
Tips for Hiring Guide for Manaslu Trek
Before hiring a guide, be sure to check the credentials of the person - their experience and license.
Communication is the key to trekking. So, make sure to check the communication level of the guide and ensure that you can fully understand their English accent.
While planning for the trip, always get in touch with the trekking agency having the best reviews.
Avoid hiring guide cum porter as they are less efficient and experienced in handling the trekkers. Also, they may not possess the perfect English speaking.
With the several years of successful trekking provided by our experienced and licensed guide, we, Adventure Himalayan Travels and Treks, have been able to please all our clients to date. So, if you are in maze regarding where and how to hire a guide, get in touch with us to get the best reliable suggestion.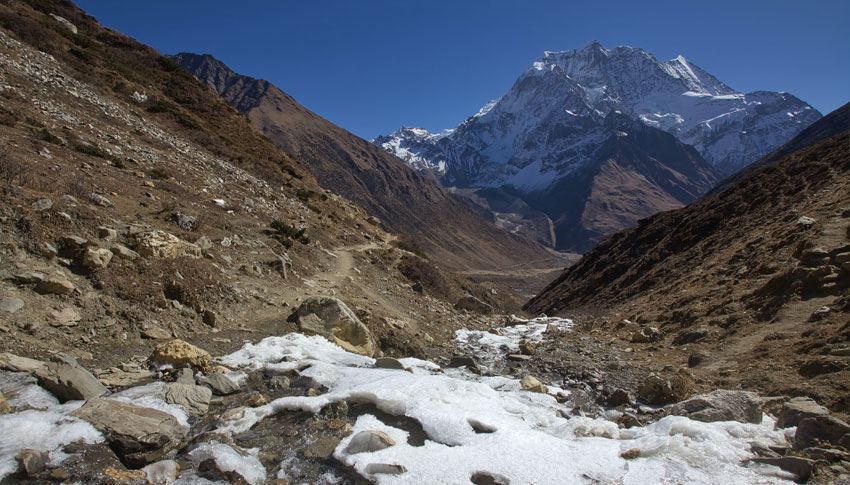 Best Time for Manaslu Circuit Trek
Autumn (September, October, and November) and Spring (March, April, and May) are the best seasons for Manaslu Trek. Among all these months, October and April are considered as best months for the Manaslu Circuit trek. During this time, the weather is stable; the temperature is warm, the chance of rainfall and snowfall is low, etc. Also, these seasons provide the clear visibility of panorama and the giant peaks such as Manaslu, Himlung, Annapurna II, etc. Furthermore, spring makes the environment vibrant by the blooming flowers through the trekking trail.
Besides these, winter (December, January, and February) is also acceptable for the Manaslu trek. However, it is regarded as the off-season as not many people travel because of problematic snowfall. However, with the proper preparation, this trek is doable even during this season as it also provides a fine view of the Manaslu region.
Lastly, the monsoon (June, July, and August) is not ideal for the Manaslu trek. We don't recommend you to trek during this season as the entire trail is slippery. Also, there is a high chance of floods and landslides.
Outline Itinerary for Manaslu Circuit Trek
It isn't easy to choose the fitting itinerary for the Manaslu circuit trek. If you want to enjoy the whole trip without rushing, you must make the itinerary by keeping the extra days as much as you can. Manaslu trek route begins with a short drive from Kathmandu to Sotikhola. From Sotikhola, you will start your walk towards Machha Khola and Jagat. From Jagat, you will enter restricted areas, and the Manaslu trekking trail starts to get tricky. After passing through all the restricted villages and acclimatizing for a day, you will cross the high pass - Larke La Pass and return via Besisahar to Kathmandu.
Our expert team of Adventure Himalayan Travels and Treks believes that the itinerary mentioned above is best to explore the Manaslu region.
| | | |
| --- | --- | --- |
| Day 01 | Arrival in Kathmandu (1,340m) and Transfer to Hotel | |
| Day 02 | Self-sightseeing around Kathmandu valley and Preparation for Trek | |
| Day 03 | Drive from Kathmandu to Soti Khola (700m) via Arughat Bazaar (8,70m) | Driving Duration: 7-8 hours |
| Day 04 | Trek from Soti Khola to Machha Khola (8,69m) | Trekking Duration: 5 hours |
| Day 05 | Trek from Machha Khola to Jagat (1,340m) | Trekking Duration: 6-7 hours |
| Day 06 | Trek from Jagat to Deng (1,860m) | Trekking Duration: 6-7 hours |
| Day 07 | Trek from Deng to Namrung (2,630m) | Trekking Duration: 6-7 hours |
| Day 08 | Trek from Namrung to Sama Goau (3,520m) | Trekking Duration: 6-7 hours |
| Day 09 | Trek from Sama Goan to Samdo (3,790m) | Trekking Duration: 3 hours |
| Day 10 | Acclimatization Day at Samdo | |
| Day 11 | Trek from Samdo to Dharamsala (4,450m) | Trekking Duration: 4 hours |
| Day 12 | Dharamsala to Larke Pass (5219) to Bhimthang (3,700m) | Trekking Duration: 7-8 hours |
| Day 13 | Bhimthang to Tilje (2,300m) to Dharapani(1,860m) | Trekking Duration: 8-9 hours |
| Day 14 | Drive from Dharapani to Kathmandu via Besisahar | Driving Duration: 10-11 hours |
| Day 15 | Departure | |

Note: Above-mentioned itinerary is for the reference purpose and we don't want trekkers to keep themselves limited to this one. So if you're going to add some new exploration places and bring the changes to the itinerary, just let us know, as we will help you prepare the customized itinerary as per your demand.
Manaslu Trek is remote trekking yet the most stunning and memorable if you do it properly, hiring a professional guide and porter, taking strength and cardio training, practicing hiking, etc. However, for your safety and as per the Government's rules in Nepal, avoid planning for independent trekking as Manaslu Circuit trek without a guide is impossible.
We, Adventure Himalayan Travels and Treks, have provided a highly professional guide to our clients to increase their success rate of accomplishing the Manaslu trek. So, if you are planning for trekking in this region, get in touch with us for further information. We assure you to fulfill every requirement of yours regarding the guide's personality and accompany you from the beginning to the very ending of this trek.