If you are intending to visit the lower region of the tallest mountain on the planet, then you may be questioning yourself - when is the best time to trek Everest Base Camp? We should say your anxiety in regards to the best season for this visit in Nepal is very appropriate as Everest Base Camp ought to be visited just on specific seasons.
The higher parts of the Himalayas are extremely freezing throughout the year and have a lot of difficulty while trekking. However, there are certain times of the year when weather stabilizes and makes your visit less risky and more enjoyable. As per our experience, Spring (March - May) and Autumn (September - November) is the best time to trek Everest Base Camp.
During this season, you can observe a vibrant environment covered with thriving flowers and overall weather is likely to be mild and warm. Also, there is average temperature, clear skies offering excellent visibility of the beauty of the Himalayas of Nepal and less chance of rainfall and heavy snowfall.
Seasons in Everest Base Camp
The climate in the Khumbu region of Nepal is notoriously unpredictable and difficult. The situation of the Himalayas keeps changing from time to time which results in a new season. Every season brings something new to experience to its visitors. Changes of season in high altitude may not always occur on a specified period, but eventually you can see the change.
Likewise in other regions, we can find four basic seasons on Everest Base Camp throughout the year - Winter, Spring, Monsoon/Summer and Autumn.
| Seasons | Month |
| --- | --- |
| Spring | March-May |
| Monsoon/Summer | June - August |
| Autumn | September - November |
| Winter | December - February |
Weather of Everest Base Camp
The weather and climate of Mount Everest is one of the extremes. You need to trek for at least a 65km from Lukla to reach Everest Base Camp even if you follow the shortest trail. The total trekking distance is 130km round trip. As a result, you will find yourself three levels higher (vertically) when you reach the ending point of the trek as compared to the starting point.
This means you not only have to deal with one major weather throughout your journey, but you must face various kinds of weathers from the beginning to ending phase.
The major two climate that can be observed in Everest Base Camp journey are;
Temperate climate (at beginning of the trekking route)
Cold tundra climate (at middle to ending of the trekking route)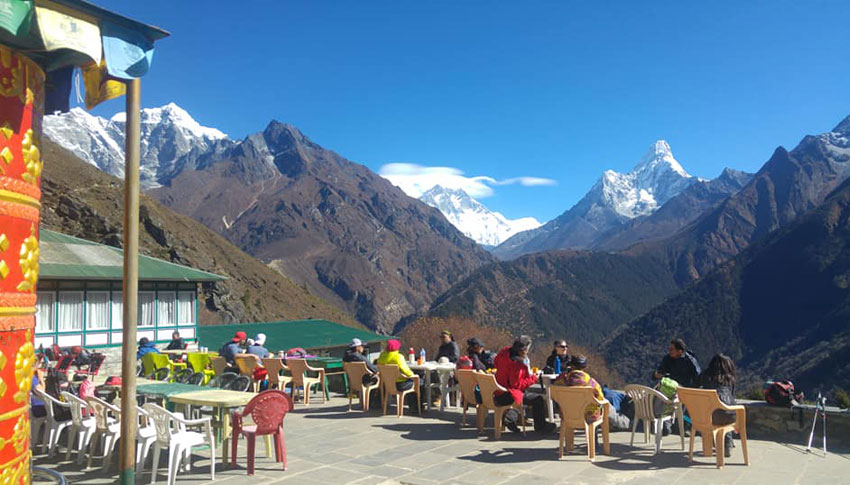 Because of the coldest region, while talking about the weather of Himalayas, you need to comprehend that it varies as per the place you reach and keeps changing and getting colder as you get nearer to the high altitude.
To understand the weather of Everest Base Camp, you need to have an overview of temperature, rainfall, speed of wind and sunshine each month so you can choose the perfect weather as per your wish.

| Months | Min. Temperature (°C) | Max. Temperature (°C) | Wind Speed (Km/hr) | Sunshine (Per Day) | Rain (MM) |
| --- | --- | --- | --- | --- | --- |
| January | -17 | 4 | 12 - 19 | 5 - 7 | 20 |
| February | -15 | 4 | 12 - 19 | 6 - 7 | 25 |
| March | -12 | 7 | 15 | 7 | 25 |
| April | -5 | 10 | 14 | 7 | 40 |
| May | 0 | 15 | 15 | 8 - 9 | 50 |
| June | -1 | 16 | 16 | 11 | 170 |
| July | 2 | 15 | 16 | 6 - 7 | 260 |
| August | 2 | 16 | 16 | 6 - 7 | 250 |
| September | 2 | 15 | 8 - 11 | 8 | 130 |
| October | -6 | 12 | 8 - 11 | 6 - 7 | 50 |
| November | -12 | 6 | 8 - 11 | 6 - 7 | 10 |
| December | -14 | 4 | 19 | 5 - 7 | 10 |
Note: Above mentioned data shows the average of the overall weather but you need to know that weather is unpredictable. Because of this sometimes it can get extremely cold by crossing the minimum borderline and sometimes it may not get as cold as minimum temperature too. However, it keeps fluctuating to the nearer data as presented above.

Best time to trek Everest Base Camp
The best time to visit Everest Base Camp may vary as per your personal preferences. As some might prefer trekking in a crowded environment whereas some might prefer trekking in a peaceful environment. Similarly, some love to trek in spring whereas some love to trek in winter. It is all about your taste and there can be no seasons which can be stamped as avoidable.
However, from the viewpoint of minimal to maximum risk, Spring and Autumn is considered as the ideal time and high seasons to complete the journey of Everest Base Camp.

High Season
March, April, May, September, and October are the best months to trek Everest Base Camp. This month falls under an autumn season making both ideal seasons to travel in the Himalayas region of Nepal. However, these months are the most crowded and busiest months among all others making the Everest Base Camp full of tents.
Most Mt. Everest culminations happen during these months so you will go over numerous climbers, summiteers, and their help groups. However, it is nothing to have some disadvantages as best things come with price. Also, these months' drawbacks are fully paid for by the scenes that you get to observe on your route.

Spring Season (March to May)
During the spring season, the temperature is warmer during the day time. Meanwhile you can still face minus degree Celsius cold in night and morning time. It is the season when every creature starts to bloom into a new life. You will witness the diverse birds, animals, and vegetations of Nepal throughout the journey.
Rhododendrons blooming on the side of the route will provide you with different aroma. Fragrance of the flower wafting through the air and diversely painted colorful nature around you will captivate your soul and mind. In this month, you can see the snow-covered amazing landscapes of the Himalayas as downpour is low which makes skies clear and extremely low stickiness.
Note: This season is properly known as EBC trekking season so EBC trail is crowded with climbers and adventures from everywhere of the world.

Autumn Season (September to November)
Rich and green scenes in the lower portions of the path along with warm temperature is the main reason behind the attraction of the people in EBC trekking. Because of average temperature, skies are clear offering the panoramic views of the snow-capped mountains, trails, and pristine environment. The routes become dry making it easier for you to walk in your own way. You can get a chance to explore some flowers in the beginning too and unique birds can be witnessed from time to time.

Advantages of trekking in Spring and Autumn
Long Sunny Days
Close view of sunrise and sunset
Less risky
Event like Mani Rimdu (Autumn) celebrated for 19 days in Tengboche, Thame, Chiwong

Disadvantages
Altitude Sickness
Route Difficulty
Hard to find accommodation
Lack of privacy

Prevention Tips
Regular acclimatization
Book in advance
Hydrate yourself
Note: During Autumn and Winter, Everest Base Camp route is less crowded because temperature starts falling and trekkers come less in number. If you want serenity in EBC, probably these seasons may be the best option for you.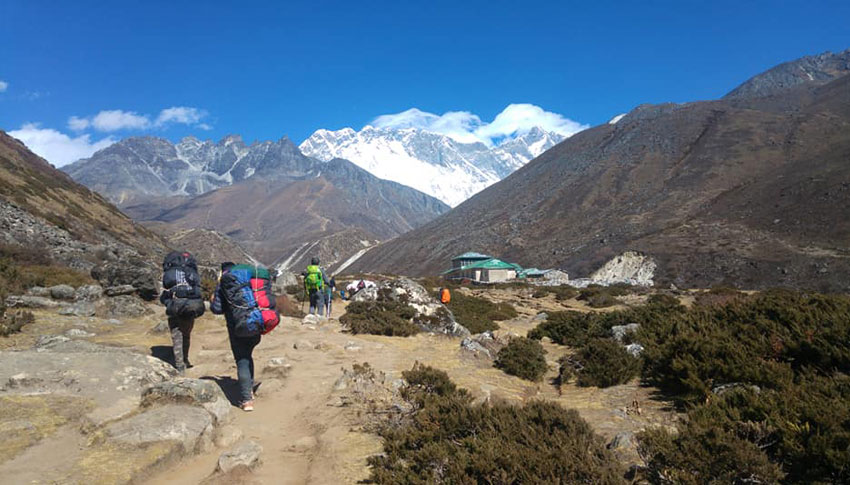 Off season of trekking to Everest Base Camp
Winter season (December, January, and February) is off season and best for the people who like to travel in peace. During these months, you can observe only a few trekkers around you which makes it less difficult for you to observe jaw-dropping views. In the morning, skies are super clear resulting in the close-up view of mountains.
However, it is the month of winter wonderland and the whole region seems to be covered with snow which might bring dangerous scenarios if not handled carefully. To remain protected in winter trek, you need to invest in winter gear.
Note: During Winter, high passes such as Renjo La, Cho La, Kongma La etc. will be closed because of heavy snowfall blocking the trail.
Advantages over other Seasons
Easy Accommodation
Discount
Uncrowded Routes
Exotic Trekking Experience
Easy Flight Tickets
Disadvantages
Altitude Sickness
Shorter Days
Cold Freezing Temperature
Unexpected Weather Change
Prevention Tips
Acclimatization
Start to trek early in the morning
Carry warm and lightweight clothes
Check your packing list to make sure that it consists of sunscreen, lip balm, insect repellent etc.
Carry woollen hats, scarves, liner and fleece socks and gloves to protect your body from freezing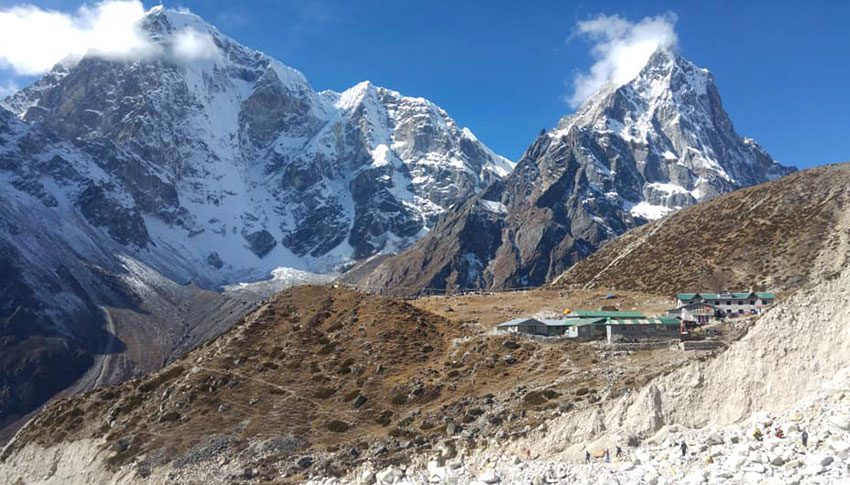 Trekking to Everest Base Camp in Monsoon
Monsoon (June, July, and August) is regarded as dangerous trekking time because of heavy rainfall. When we talk about the monsoon season, slippery routes, rain, leeches,
landslides etc. immediately come in our mind. The whole trail will be wet and you will not get a chance to click awesome photographs. Some of the high passes are also closed. Due to this reason, trekking should be avoided in monsoon as far as possible as it is too risky for both physical and mental state.
You can trek to Everest Base Camp at any season with extra safety precautions, however, there are some best seasons when you can encounter the best of the Everest area. In this way if you are intending to visit the Everest Base Camp, you should look at the best and ideal opportunity for your trek.
Besides this, the selection of a travel agency also matters a lot as all your experiences, safety and overall cost are handled by them. Also, the more experienced the agency, the more wonderful journey you will have. So, if you need any additional data to select the best time to trek Everest Base Camp, then don't hesitate to reach us. We are here to help you!!

Frequently Asked Questions (FAQs')
How high is Everest Base Camp?
Everest Base Camp resides at an altitude of 5,380m above sea level for which your trekking points will start from Lukla.
How crowded is Everest Base Camp?
Crowd on Everest Base Camp depends upon your package. Everest Base Camp being a number 1 trekking destination, you will observe a lot of people throughout the year. However, the route is a bit more crowded during autumn and spring. If you want to avoid crowds, you can book your trip for November to January.
How hard is to trek to Everest Base Camp?
Everest Base Camp trek has a moderate level of difficulty. You should be physically fit. It will be best if you take training before heading for Everest Base Camp as the situation of the Himalayas sometimes go out of prediction. Also, you need to be aware of the altitude sickness, trail map, requirements, rules and regulations, difficulty level, medication, itinerary etc.
Can you sleep at Everest Base Camp?
Sleeping at Everest Base Camp sounds so interesting and exciting as it will provide you with a bunch of eye-catching views of the surrounding area at night time. However, to spend a night in the Everest Base Camp one needs to have a special permit which is little expensive as compared to others. Also, it depends upon the itinerary package you choose.
Which month is warmer to trek in Everest Base Camp?
Late April and early May is regarded as the warm time to trek in Everest Base Camp.
How is the weather of Everest Base Camp?
Being a Himalayan region, the weather of Everest Base Camp is cold throughout the year as it is never too hot. Also, the weather varies quickly from time to time and place to place. The maximum temperature in Everest Base Camp reaches up to 18°C to 25°C during day time and up to -17°C or even lower during night time.

Is it possible to see Mt. Everest from Everest Base Camp?
You can't see the view of Mt. Everest from the base camp because of its structure, height and other rock blocking it. However, if chosen the right route, then you may witness the beautiful Everest from your route of trekking. Besides this, you can experience the stunning Everest from Kala Pathar too.