Are you planning for a Kathmandu tour? Well, without a doubt, you have made the best decision for your vacation. Kathmandu, the capital city of Nepal, is for all types of visitors, whether they are looking for natural beauty, adventure, animals, cuisine, or cultural history. There are several best destinations in Kathmandu valley to visit not just for what it offers, but also for the places around it, from its shrines to its mountains and alleys to its residents. You might spend a lovely twilight by taking a spiritual walk around the Boudhnath Stupa, or you could enjoy a remote lifestyle in Khokana. Moreover, if you want to learn about the history of Nepal, a day tour in Kathmandu around durbar square and historical museums is good enough to keep you enthralled.
For those who are not hard-core hikers and don't have much time for long treks in Nepal, there are many destinations and short treks in Nepal that are easily accessible from Kathmandu. The great thing is that taking a tour of Kathmandu won't break your bank account.
Most tourists use Kathmandu as a beginning point for their Himalayan trek, but it's probably worth spending a few days seeing this Nepalese city before or after the journey. People typically dismiss this city as a hectic and dirty one where people mainly go for renting and buying gear in Kathmandu. However, there is much more to Kathmandu than the backpacker throng. It is busy, crowded, and fascinating all at the same time. The cultural significance of Kathmandu is a glorification of centuries-old cultures and rich customs. In addition, Nepal has ten UNESCO World Heritage Sites, several of which are in or around Kathmandu. Although this city may seem rough around the edges, it will amaze and thrill you when you delve deeper.
Luckily, most of the major attractions of Kathmandu are easily accessible on foot and quite close to one another. Consider riding a local bus or getting a cab to get to destinations that are further away. Before you go in, it's a good idea to settle on a fee.
So, if you're ready to see everything that Kathmandu has to provide, here's our specialist's guide to the finest Kathmandu tour itinerary. This list of the 7 best places to visit around Kathmandu valley will add extra charm to your holidays if you plan your trip during Spring (March-May) and Autumn (September-November), which is best time to visit tour in Kathmandu. Let's dig in!
1. Kathmandu Durbar Square
This historic square is a tranquil, holy location for spiritual searchers, surrounded by fountains, old sculptures, tiny ponds, and several courtyards such as Mohan Chowk and Sundari Chowk.
Kathmandu Durbar Square Highlight
Magnificent structures with intricately carved stone monuments and wood-crafted panels and windows
Visit famous sites such as Taleju temple, Kumari Ghar, Kasthamandap, Great Bell, Great Drums, and so on
Learn about the history of the Malla regime
Explore popular courtyards including Kumari Chowk, Basantapur Chowk, and Sundari Chowk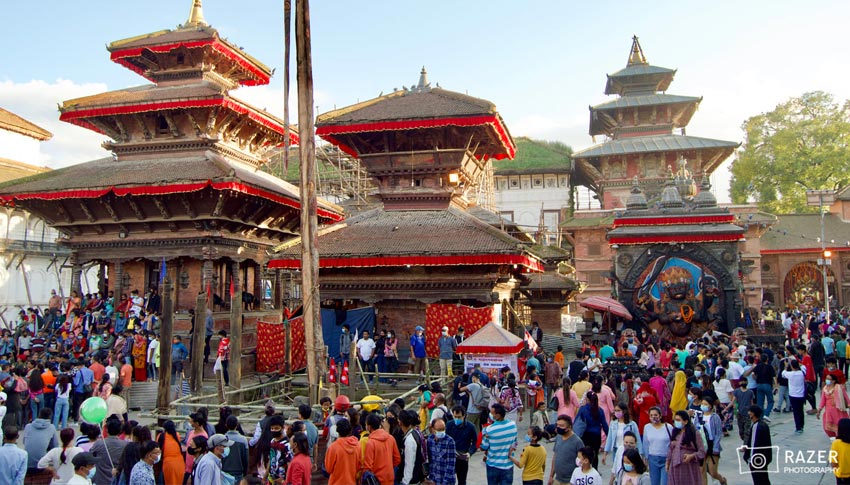 Kathmandu Durbar Square at a Glance
| | |
| --- | --- |
| Destination: | Nepal |
| Starting Point: | Kathmandu |
| Ending Point: | Kathmandu |
| Driving Duration: | Kathmandu to Kathmandu Durbar Square, 10 minutes (1.6km) |
| Best Season: | Throughout the year (January-December) |
The Kathmandu Durbar Square, located in the center of the old town, is a well-known landmark in the city and one of the most popular tourist attractions in Kathmandu. It was originally the site of the King's coronation. The UNESCO World Heritage-listed Kathmandu Durbar Square is a spectacular collection of ancient Hindu and Buddhist temples and shrines, former royal residences, courtyards, sculptures, and fountains. Likewise, the pagodas, which contain traditional Newari wooden carvings dating back to the 16th century, are the most remarkable elements of the area.
Foreigners and SAARC nations must pay NPR. 1000 and SAARC NPR. 150 respectively to enter Kathmandu Durbar Square.
The most-visited sites of this square are Jagannath temple, Hanumandhoka, Kumari Ghar, Kal Bhairav, Taleju Temple, and many more. The best time to visit Durbar square is in the early morning before the masses arrive, as it is one of the most well-known locations in Kathmandu and draws a significant number of visitors. Many temples and ancient structures were destroyed in the 2015 earthquake, yet it is still one of the best destinations to visit in Kathmandu.
Take additional precautions when going about, especially in tiny streets, which are congesting with pedestrians and inhabitants, as well as bustling with vehicles (motorcyclists).
How to get there?
Kathmandu Durbar Square is around 1.6 kilometers from Thamel. It takes about 20 minutes to walk from Thamel to Kathmandu Durbar Square. You may also hire a taxi, which will take around 10 minutes. There are also rickshaws, which are a wonderful way to discover the secret streets.
The best way to experience this square is by taking a Kathmandu tour, hiring a driver and guide, and booking a private trip with an authorized local travel agency.
2. Bhaktapur Durbar Square
Since the 17th century, this ancient heartland of the Malla Dynasty has remained largely unaltered where you can take a glimpse into the Newari culture.
Bhaktapur Durbar Square Highlight
History of Malla Dynasty
Ancient wonders such as 55 Window Palace, Nyatapola Temple, Vatsala Temple, and many more
Experience local culture and traditions by participating in Bisket Jatra
Observe Newari art and architecture
View of Nepalese men in their Bhadgaule Topi (Black hat) and women in Haku Patasi (traditional black saree with red border) strolling through the alleys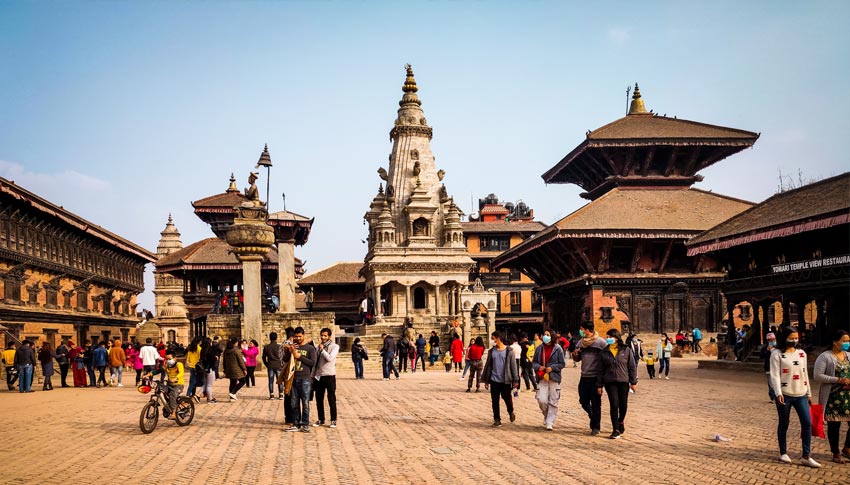 Bhaktapur Durbar Square at a Glance
| | |
| --- | --- |
| Destination: | Nepal |
| Starting Point: | Kathmandu |
| Ending Point: | Kathmandu |
| Driving Duration: | Kathmandu to Bhaktapur Durbar Square, 1 hour (12km) |
| Best Season: | Throughout the year (January-December) |
Bhaktapur Durbar Square is a museum of medieval art and architecture with many specimens of sculpture, woodcarving, and enormous pagoda representing various deities. The area is one of Kathmandu's most attractive architectural showpieces, showcasing Nepal's traditional arts. It was listed as a world heritage site in 1979. The major attractions of this square are 55 Window Palace, Golden Gate, Lion's Gate, Mini Pashupati Temple, and so on.
Foreigners and SAARC nations must pay NPR. 1500 (US$15) and NPR. 500 (US$5) respectively to enter Bhaktapur Durbar Square.
In addition, this square is in the heart of Newari heritage, with art and architecture taking center stage. The majority of its people are either Hindus or Buddhists, and they coexist in great religious peace. Despite the great political instability during the Malla period, this square succeeded to protect its identity. Today, a day tour to Kathmandu is incomplete without a visit to Bhaktapur Durbar Square.
A day tour to Bhaktapur Durbar Square is more common; however, we strongly advise you to spend at least one night there. The location is incredibly stunning and deserves more than a day while taking the Kathmandu tour.
How to get there?
Bhaktapur is around 12 kilometers from Kathmandu. To get to Bhaktapur, you can take a taxi or rent a car in Kathmandu. A taxi will generally cost between 600 and 800 NPR. From Kathmandu, public buses and micro vans are also easily accessible. It costs NPR 30 to 40 to travel in buses. However, buses consume more time and are inconvenient. You can also opt. for tourist buses which are more pleasant and less crowded. To visit Bhaktapur Durbar Square from Bhaktapur, get out at the Kamal Binayak stop and then ask for directions to Bhaktapur Durbar Square. It takes 10-15 minutes to walk there.
3. Patan Durbar Square
Visit the temples, palaces, and mansions around the square, which best depict the culture of this country because of its arts and history.
Patan Durbar Square Highlight
Visit three famous courtyards- central Mul Chowk, Sundari Chowk, and Keshav Narayan Chowk
Explore sites such as Krishna Mandir, Golden temple, Bhimsen Temple, and likewise
Gaze at the conserved Newari artworks in Patan museum
Walk on the narrow alleys and get the real taste of street foods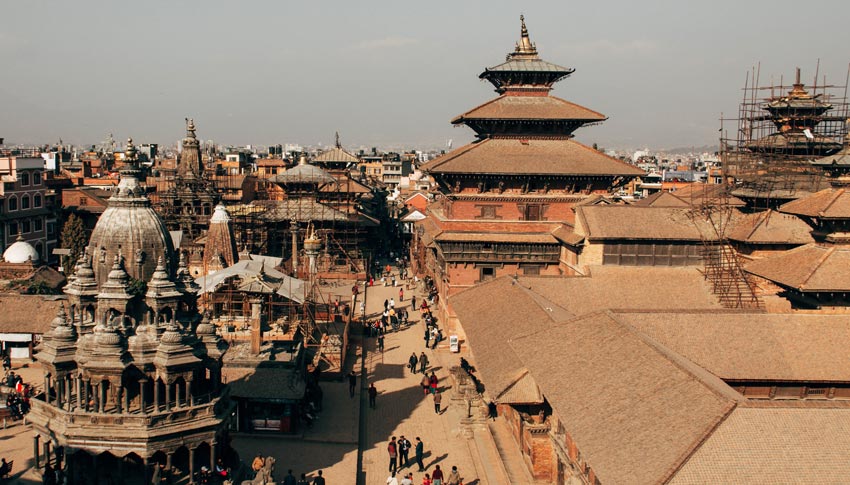 Patan Durbar Square at a Glance
| | |
| --- | --- |
| Destination: | Nepal |
| Starting Point: | Kathmandu |
| Ending Point: | Kathmandu |
| Driving Duration: | Kathmandu to Patan Durbar Square, 45 minutes (9km) |
| Best Season: | Throughout the year (January-December) |
This durbar square is in the heart of Lalitpur city. This is one of the Kathmandu Valley's three main Durbar squares and a UNESCO World Heritage Site. This is the place to appreciate the architecture, culture, grandeur, and history of the region. Moreover, this square houses temples, palaces, residential dwellings, and a variety of other constructions. The Kathmandu tour along with a visit to Patan Durbar Square is suitable for families with children, friends, and couples.
The entry fee of Patan Durbar Square for foreigners is NPR 1000 (US$10) and for SAARC nations is NPR 250 (US$2.5). The visiting time is Tuesday to Sunday where the square opens from 10:30 am to 4:30 pm (Tuesday to Saturday), and 10:30 am to 2:30 pm on Sunday.
The majority of the temples and monuments in this Square were constructed in the 17th century. This Square is admired as the spiritual heart of Hinduism and Buddhism. Before, it used to have 136 courtyards, each with more than 55 temples. Today, just a few have withstood the test of time. Moreover, each temple and monument have a unique architectural style that reflects religious values. Wooden buildings, on the other hand, are quite common here. The wood utilized is one-of-a-kind.
How to get there?
Patan Durbar Square, the hub of the old city, is located roughly 9 kilometers from Thamel. The quickest way to get from Kathmandu to Patan is by taxi. When there is no traffic, the trip takes around 10 minutes. Similarly, several buses and microbuses run from Kantipath as well as Ratna Park to Patan.
It takes 40-60 minutes to get there via bus. Alternatively, you can also get to square on your foot which takes 1 to 1.5 hours. It's not the most pleasant experience, as it takes you through dusty, congested neighborhoods and across the filthy Bagmati River, but it gives you a close-up glimpse of communities that you would otherwise miss if you traveled by vehicle or bus.
When there is no traffic, this trip is shorter with any sort of transportation. But, except for early mornings, after midnight, and Saturdays (public holidays in Nepal), there is virtually always traffic. So, prepare yourself to get stuck in jams.
4. Kirtipur Durbar Square
Explore the ancient village of Kathmandu and get to know about the art and architecture of local Newars.
Kirtipur Durbar Square Highlight
Explore authentic Medieval art and architecture of Newar
Learn about the historical background related to Prithvi Narayan Shah
Famous places such as Bagh Bhairab temple, Uma Maheshwar temple, Chilancho Stupa, and so on
Enjoy the panoramic view of the valley from Kirtipur hill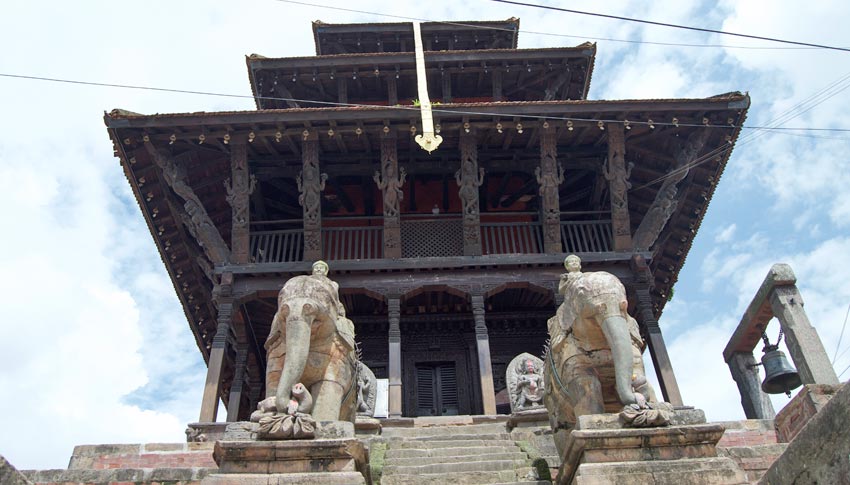 Kirtipur Durbar Square at a Glance
| | |
| --- | --- |
| Destination: | Nepal |
| Starting Point: | Kathmandu |
| Ending Point: | Kathmandu |
| Driving Duration: | Kathmandu to Kritipur Durbar Square, 45 minutes (10km) |
| Best Season: | Throughout the year (January-December) |
Kirtipur is a historic hamlet nestled on a small hill in the Kathmandu Valley's southwest corner. This medieval Newari village was designed with fortifications in mind. Due to the magnificent old temples strewn along its backstreets and the real sense of Newari culture that it provides, Kirtipur Durbar Square has become the best place to visit in Kathmandu. Not only is the visual attractiveness and charm of this square commended, but it also has an amazing historical past to back it up. The army from Gorkha's victory against Kirtipur was crucial in the history of Nepal's unity.
Kirtipur Durbar Square hides some of the greatest Newari eateries in the valley, offering a stunning panoramic view of the valley. Because the town is car-free, it is well-protected and excellent for strolling and exploring in the mornings and at night.
How to get there?
Kirtipur is easily accessible by local bus from Ratna Park bus stop or Lagankhel bus stop. It takes around a half-hour, although it may take longer if traffic is bad. Most visitors will find it simpler to hail a taxi to Naya Bazaar, as drivers in central Kathmandu are familiar with the area. It takes around 15 minutes to reach there via taxi and costs NPR 600-800. Buses and taxis both stop at the bottom of the hill on the main street; walk upward to reach the Kirtipur Durbar Square.
Cycling into and out of town is also a viable alternative for adventure seekers and fitness buffs.
Book Kathmandu Tour Guide
If you want to learn about the history and significance of destinations, we recommend hiring a Kathmandu tour guide. Walking around aimlessly without a tour guide will take you to many magnificent structures but will leave you with no understanding. So, Adventure Himalayan Travels and Treks offers the appropriate Kathmandu vacation tours for you, whether it's a short trip or a long one, with detailed information about each site. Hurry up and book your dates today!
5. Swayambhunath Stupa
Delve into calm, devotion, and rituals on the little hilltop of Swayambhunath, northwest of Kathmandu Valley.
Swayambhunath Stupa Highlight
Explore the world's biggest statue of Sakyamuni Buddha and the Vajra 'thunderbolt'
Visit Dewa Dharma Monastery, Shantipur, Harati Temple, and many more
Enjoy great views of Kathmandu, especially in the early evening
Observe the local monks and worshippers around the stupa, spinning prayer wheel and flag while reciting the mantra
Swayambhunath Stupa at a Glance
| | |
| --- | --- |
| Destination: | Nepal |
| Starting Point: | Kathmandu |
| Ending Point: | Kathmandu |
| Driving Duration: | Kathmandu to Swayambhunath, 30 minutes (4.8km) |
| Best Season: | Throughout the year (January-December) |
This is one of the most visited and famous sights in Kathmandu. It's primarily occupied with monkeys and is called Monkey Temple. Visitors worship monkeys in this temple because they are believed to be formed from the lice of the Buddhist god - Manjushri. Whatever you believe, it's wonderful to see them spread around the steps and structure. In addition, the temple has cultural significance as well. It was built in the fifth century and withstood the 2015 earthquake undamaged.
Foreigners pay around NPR 200 (US$2) to enter the stupa, which is accessible 24 hours a day. There are ticket offices at both the west and east entrances of Swayambhunath.
It's a lengthy and exhausting climb up to this temple. You'll have to go 365 stairs up, and there are no lifts, so you'll need to be in good physical shape. Once there, you should join a trip led by one of the monastery monks. They are highly capable of offering you an insider's view of the site's history and significance, and you will also be able to take part in rituals. Besides, you can also hire a local guide around there so you can thoroughly explore the overall sites.
How to get there?
Ways and approaches to Swayambhunath Temple from Kathmandu are easily accessible. If you follow the Swayambhu Marg, you'll get to Swayambhunath Temple which is around 4.8 kilometers from Kathmandu. You may also hire a cab or a taxi to get to the Swayambhunath Temple. Moreover, if you know the routes, public transport is also an option. However, it's preferable to take a cab from Thamel or downtown Kathmandu.
The summit of the hill is accessible in two ways. There are steep steps on the east side to reach stupa. If you are out of shape or have health issues, it is preferable to take the route on the western side in your vehicle or cab.
6. Pashupatinath Temple
Experience spirituality, artwork, and history in Kathmandu at this UNESCO World Cultural Heritage Site
Pashupatinath Temple Highlight
Enjoy spiritual work around the temple complex surrounded by several deities
Observe Hindu cremation along the Bagmati River
Participate in Bagmati Ganga Aarati and indulge oneself in the spiritual journey
Visit religious places such as Gaurighat, Kutumbahal, Pingalastha, Jaya Bagheshori, Deupatan, and so on
Explore 15 Shivalayas, 492 temples, and 12 Jyotirlinga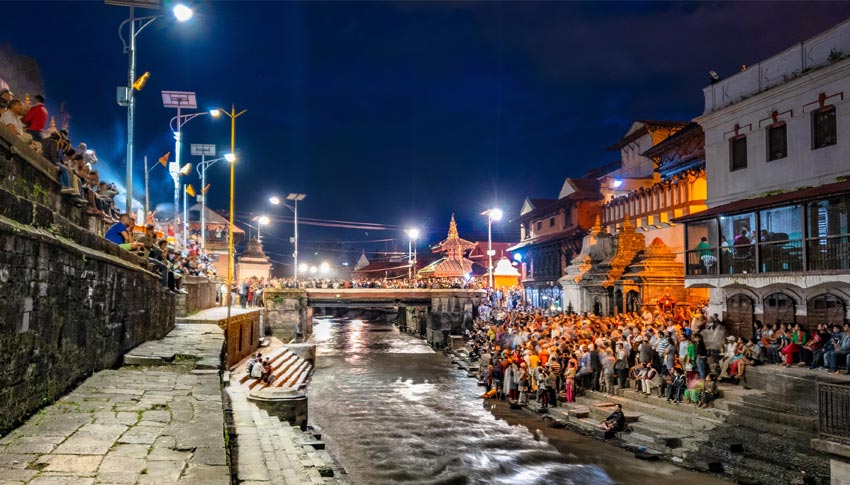 Pashupatinath Temple at a Glance
| | |
| --- | --- |
| Destination: | Nepal |
| Starting Point: | Kathmandu |
| Ending Point: | Kathmandu |
| Driving Duration: | Kathmandu to Pashupatinath, 30 minutes (5km) |
| Best Season: | Throughout the year (January-December) |
Pashupati temple is another best destination in Kathmandu. It is a UNESCO World Heritage Site and one of the most sacred locations in Nepal for Hindu worshippers. Pashupatinath, built in the pagoda style, lies on the banks of the Bagmati River. It features a unique gilded rooftop, beautifully carved rafters (showing of Shiva's family members), and four silver-plated entrance doors flanked by deity sculptures. This Hindu temple is a somber reminder that all life finally comes to an end, and you fully experience the exhilarating rush and buzz of human (and Nepali) existence here.
We recommend you stay till evening to witness the Aarati ritual, which begins each evening at 6:30 p.m.
As darkness sets over the Pashupatinath complex, a buzz of activity begins to build; people line in the far side of the river and offer melody, prayer, incense, candles, and sandalwood to Lord Shiva. The Aarti ceremony gradually develops until the entire crowd is on their feet, dancing as they pray and chant together in devotion. Observing an Aarti ceremony is one of the most amazing experiences in the Kathmandu tour. You may also observe Hindu cremation rites on elevated platforms besides the river. It's a very startling sight, but it's also really intriguing to see.
Don't get misled by the painted saints (Sadhus) at the temple area who want money to be photographed. Either be prepared to pay or refrain from photographing them.
How to get there?
The temple is open daily from 4 a.m. to 9 p.m., although it is closed between the afternoon and 5 p.m. The best time to visit this temple is early in the morning or late in the evening.
The travel from Kathmandu to Pashupatinath Temple is straightforward. It is 5 kilometers from Thamel, and you may travel there via cars, taxis, or buses. It is very near to Tribhuvan International Airport, so you can simply hire a taxi from there and reach Pashupati within 5-10 minutes. Also, if you are heading from the Chabhiel bus stop take a bus, microbus, or tempo (a three-wheeled taxi) that indicates it's heading to Gaushala or Chabahil.
Non-Hindus are not permitted to visit the temple. Non-Asians must pay a fee of around NPR 1000 to access the temple complex.
7. Boudhanath Stupa
The renowned Boudhanath Stupa is one of the best places to visit in Kathmandu, which provides an impressive sight of Tibetan culture and life.
Boudhanath Stupa Highlight
Discover the Tibetan tradition by walking around the stupa in a clockwise motion
Look for Tibetan monks with shaved heads and maroon robes
Spin the prayer wheels and offer yak butter and tsampa
Explore the five statues of Dhyani Buddhas, nine levels depicting Mt. Meru, and 13 rings from its base to its apex
Roam around the bustling market of Boudhanath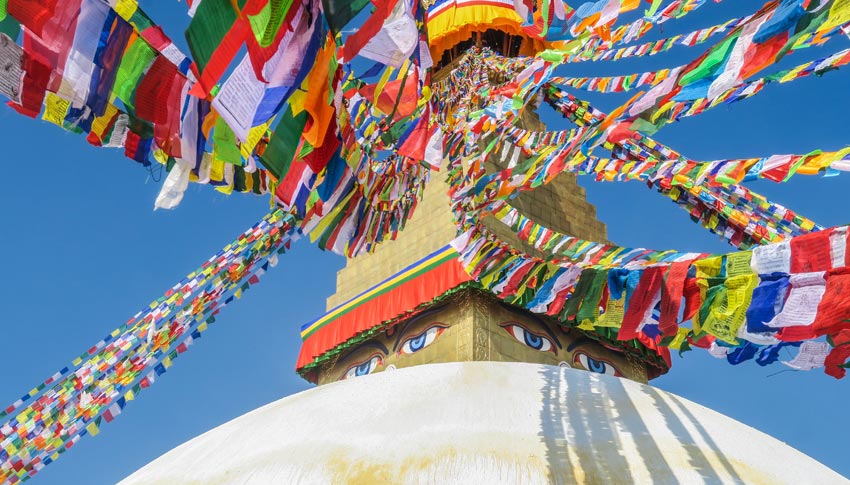 Boudhanath Stupa at a Glance
| | |
| --- | --- |
| Destination: | Nepal |
| Starting Point: | Kathmandu |
| Ending Point: | Kathmandu |
| Driving Duration: | Kathmandu to Boudhanath, 30 minutes (5km) |
| Best Season: | Throughout the year (January-December) |
The Boudhanath Stupa, located near Kathmandu, is one of the world's largest stupas and dates back to the 6th century, perhaps even before. It, too, is a UNESCO World Heritage Site and is located on the historic trading port to Tibet. The enormous Buddha eyes on the roof of the stupa, as well as the colorful prayer flags, make for an eye-catching framing. The stupa was damaged in the 2015 earthquake but was eventually repaired and accessible to visitors only eighteen months later.
For international visitors, the entry cost to the Boudhanath stupa is NPR 400 and for SAARC nationals, the cost is NPR 100.
Today, hundreds of pilgrims arrive daily on this site to enjoy a peaceful walk around the central dome, while spinning prayer wheels as they go. Tibetan monks recite mantras and pray in the neighboring monasteries, while tourists capture everything in. Moreover, Guru Lhakhang Gompa, one of the oldest monasteries in the Boudhanath region, is located outside the Stupa. Inside, you'll discover magnificent sculptures of Guru Padmasambhava, Amitabha Buddha, and Arya Avalokiteshwara, as well as Buddhist ritual activities.
The ideal time to visit Boudhanath, in our opinion, is late afternoon when the town has a more realistic atmosphere. The locals go about their regular routines, and the surrounding region is less crowded. Alternatively, go early in the morning to escape the crowds.
How to get there?
It is extremely simple to get to Boudhanath Stupa from Kathmandu. It takes around three hours to go there, explore for a bit, then return. Taking a taxi is by far the most convenient method to travel to Boudhanath. It's cheap, especially if you go in a group. The taxi journey takes around 20 minutes, and they are easily available from international airports. You may also take public transportation to Boudhanath if you're on a tight budget. The first step is to go to the crowded Ratna Park bus stop, outside of Thamel, and take a bus to Bouddha.
Alternatively, you can also join one of the day tours in Kathmandu that include Boudhanath. These are generally minibus trips that include stops in Patan and perhaps Bhaktapur in addition to the other major destinations in Kathmandu.
So, Adventure Himalayan Travels and Treks is the place to go if you're planning a vacation to Kathmandu. Whatever your travel preferences are, you'll discover appropriate Kathmandu vacation itineraries here. Adventure Himalayan Travels and Treks will assist you in planning your Kathmandu trip, whether you are searching for Kathmandu tours for a family or a couple, escorted Kathmandu tour packages for your parents, or an eccentric Kathmandu holiday for yourself. With our unbeatable deals and guidelines, your trips will be extremely memorable. Happy traveling!!
Frequently Asked Questions (FAQ)
Is it safe to travel to Kathmandu?
Yes, Kathmandu is a safe place to travel in Nepal. Its inhabitants are exceptionally kind and welcoming to tourists and visitors. It is not unfamiliar to tourists and you all will find your comfort zone here. It is highly welcoming to guests and exceptionally well arranged for getting around. Its crime statistics are relatively low, but you should still be cautious. It may have a record of small crime, but it is by no means a hazardous neighborhood in the city. Although it is not dangerous to stroll around Kathmandu, you still need to be careful while approaching small alleys during the night.
Keep in mind that pickpockets and bag snatchers keep roaming in congested areas such as bus stops, airports, and tourist destinations. So, be careful and look after your stuff!
How much does it cost to visit Kathmandu?
Well, the cost to visit Kathmandu entirely depends upon the itinerary and the way you choose to explore the places. The cost might be relatively lower if you don't mind traveling in local buses. However, taking a ride in a tourist bus, private jeep, and car may increase your cost. Also, if your itinerary includes most of the best places in Kathmandu, then you need to be a little high on budget.
However, among all the tours of Nepal, the Kathmandu tour is affordable because most of the destinations are closer to each other. On average, it will cost around US$40-50 per day for your trip to Kathmandu.
What are the best short tours in Kathmandu?
Short tours in Kathmandu provide a spectacular panorama of Newar traditions, monuments, and historical places. For those who just have a few days in Nepal, it is best to opt. for short tours rather than panicking. Most of the destinations mentioned above fall in the category of short tours in Kathmandu. Besides, there are also other tours, which within range of 1 to 3 days, they are:
Nagarkot
Namobuddha
Panauti
Pharping
Shivapuri National Park
Changu Narayan
Adventure Himalayan Travels and Treks offers a variety of intriguing Kathmandu short tours ranging from 1 to 3 days in length. You can even spend more days by extending the itinerary. Just let us know what kind of trip you want to experience, and we will make your dream come true and prepare the customized itinerary. Hurry up and plan your trip with us!!